Thanksgiving Leftover Egg Muffins Recipe
Prep Time: 15 Min | Cook Time: 25 Min | Servings: | Calories: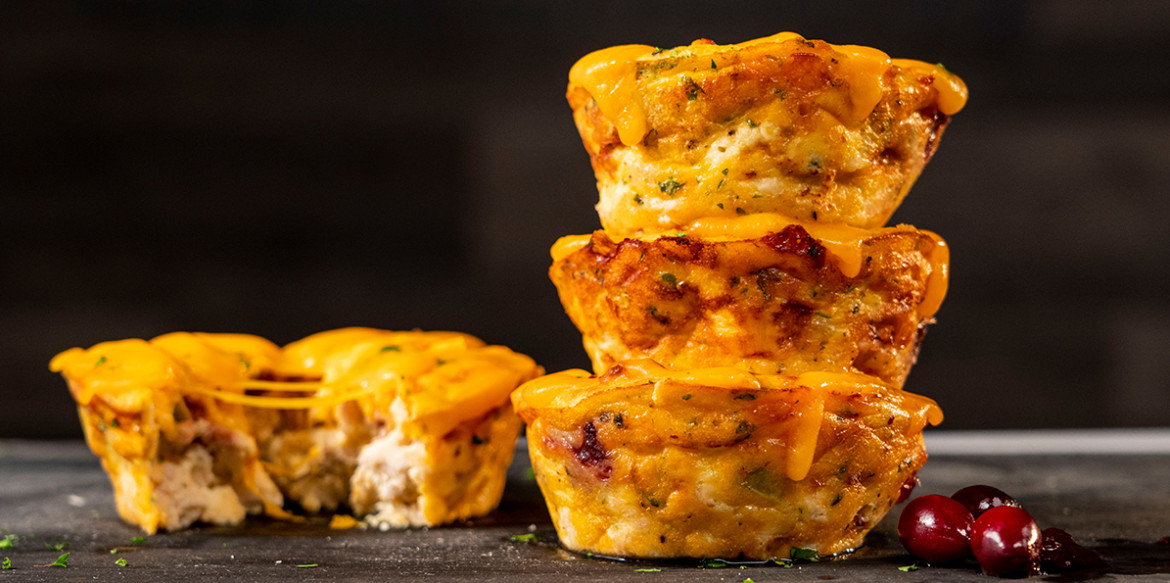 ---
You'll think you were reliving Thanksgiving with all the flavor that's packed into these breakfast beauties. Turkey, stuffing, mashed potatoes, sweet potatoes, cranberry sauce, eggs and yes, a generous amount of Sargento® Shredded Cheddar Cheese.
Ingredients
4 lg. Eggs, beaten
¾ cup Half & half
½ cup Prepared mashed potatoes
½ cup Prepared sweet potatoes
1 Tbsp. Fresh parsley, chopped
1 tsp. Salt
½ tsp. Pepper
1 ½ cups Roasted turkey, chopped
1 cup Prepared stuffing, broken into small pieces
¼ cup Prepared cranberry sauce
Directions
Pre-heat oven to 375 degrees. In a medium bowl, combine eggs and next 6 ingredients. Stir well and set aside.
Grease a 6 muffin jumbo muffin tin with non-stick spray.
Spoon turkey evenly in the bottom of each cup. Spoon a small amount of stuffing over turkey. Spoon cranberry sauce over stuffing. Sprinkle cheese over cranberry sauce. Pour reserved egg mixture into each cup almost to the top.
Place on middle rack of oven. Bake for 25 minutes or until top of each egg cup is firm to the touch and golden brown. Sprinkle with remaining cheese and let rest for 5 minutes. Transfer to serving plate and enjoy.
---