Kicked Up Grilled Cheese with Roasted Quesomato Soup
Prep Time: 15 min | Cook Time: 160 min | Servings: 4 | Calories: 520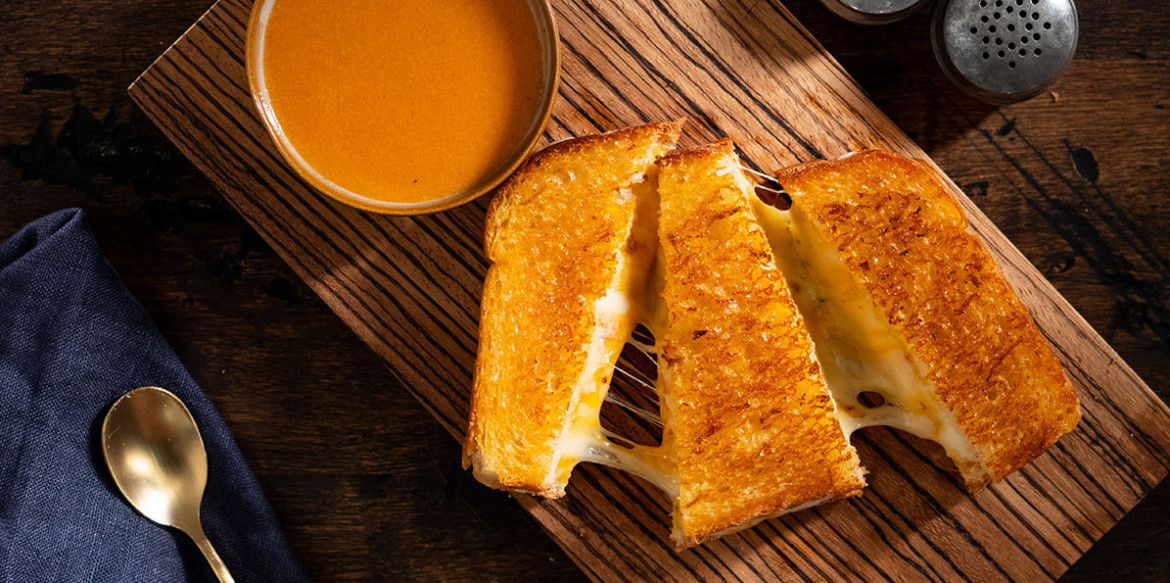 ---
<p><span>Grilled cheese sandwiches are a favorite with kids.&nbsp; However, now they can be an adults favorite as well.&nbsp; This kicked up version uses 3 slices of Cheese between two slices of English muffin bread brushed with chipotle lime mayo.</span></p>
Ingredients
FOR GRILLED CHEESE:
1/2 cup mayonnaise
2 tsp. fresh lime zest
1/2 tsp. chipotle chili powder
8 slices English muffin bread
FOR SOUP:
3 lg. Tomatoes, stem removed, cut in half crosswise
1 small Sweet onion, cut into wedges
4 cloves Garlic
2 tsp. Extra virgin olive oil
1 tsp. Kosher salt
1/2 tsp. Freshly ground black pepper
1/2 cup Water
1 (15oz.) can Chicken broth
1 cup Crushed tomatoes
1 tsp. Worcestershire sauce
1/2 tsp. Ground cumin
1/2 tsp. Chipotle chili powder
1 tsp. Flour
1/2 cup Half & Half, warmed
Directions
FOR GRILLED CHEESE:
In a small bowl, combine mayo lime zest and chili powder. Cover and refrigerate mixture for one hour.
Pre-heat a large non-stick skillet or frying pan over medium low heat. Spread 1 teaspoon mayo mixture on each side of bread. Place 3 slices of cheese between two slices of bread.
Grill sandwiches for 2-3 minutes per side or until golden brown. Remove with a flat spatula. Cut in half and serve with a cup of quesomato soup.
FOR SOUP:
Pre-heat oven to 400 degrees. Place tomatoes cut side up in a 13"X9" casserole dish. Add onions and garlic around tomatoes. Drizzle olive oil over vegetables, then sprinkle salt and pepper on top. Pour water into pan. Roast tomato mixture uncovered for 2 hours. Remove from oven and let cool for about 20 minutes.
Remove skins and transfer tomato mixture to a blender. Add chicken broth and next 4 ingredients. Blend on low until smooth. Strain mixture through a fine strainer over a 3 qt. saucepan. Discard solids. Add bay leaf and cook on low for 20 minutes.
In a medium bowl, combine cheeses and flour. Slowly whisk in cheeses until all cheese is added and melted in. Slowly whisk in warm cream. Simmer on low for 10 minutes. Serve.
---