Buffalo Chicken Grilled Cheese
Prep Time: 10 MIN | Cook Time: 10 MIN | Servings: 4 | Calories: 810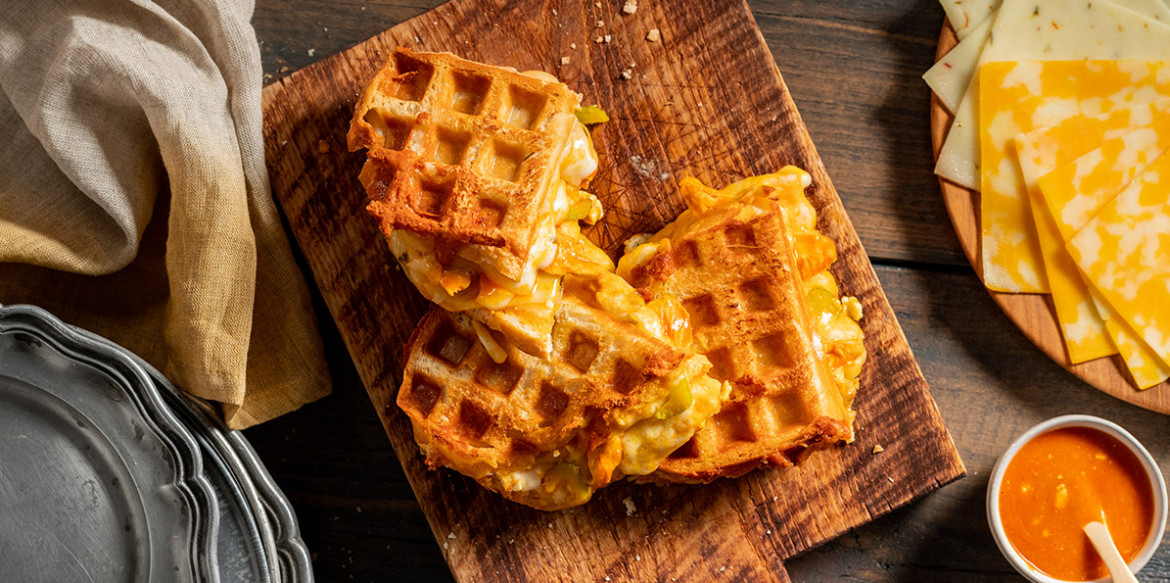 ---
<p>Spicy buffalo chicken, creamy Sargento® cheese, diced celery and a touch of blue cheese, surrounded by rustic bread then brushed with melted butter and waffle grilled to perfection.&nbsp; Now that's a grilled cheese to get excited about</p>
Directions
In a medium size bowl, whisk together hot sauce and 4 tablespoons of butter. Brush 1 side of each slice of bread with mixture and set aside.
Whisk blue cheese into remaining hot sauce mixture, then add warm sliced chicken and celery. Toss until chicken is well coated with sauce.
Place 4 slices of bread buttered side down on a clean surface. Place 2 slices of the Sargento® Colby Jack Cheese on the bread slices. Divide sauced chicken evenly over cheese.
Place 2 slices of Sargento® Pepperjack Cheese on top of sauced chicken. Top with bread buttered side up.
Spray inside of waffle maker with non-stick spray. Pre-heat a waffle maker over medium heat. Place 1-2 sandwiches in waffle maker and lower top. Grill for 2-3 minutes or until golden brown.
Transfer sandwich(s) to a warm oven to keep warm. Repeat grilling process with remaining sandwiches. Cut sandwiches in half and serve with a side of ranch dressing for dipping.
---