Open Faced Eggplant Sandwiches
Prep Time: 15 min | Cook Time: 10 min | Servings: 2 | Calories: 658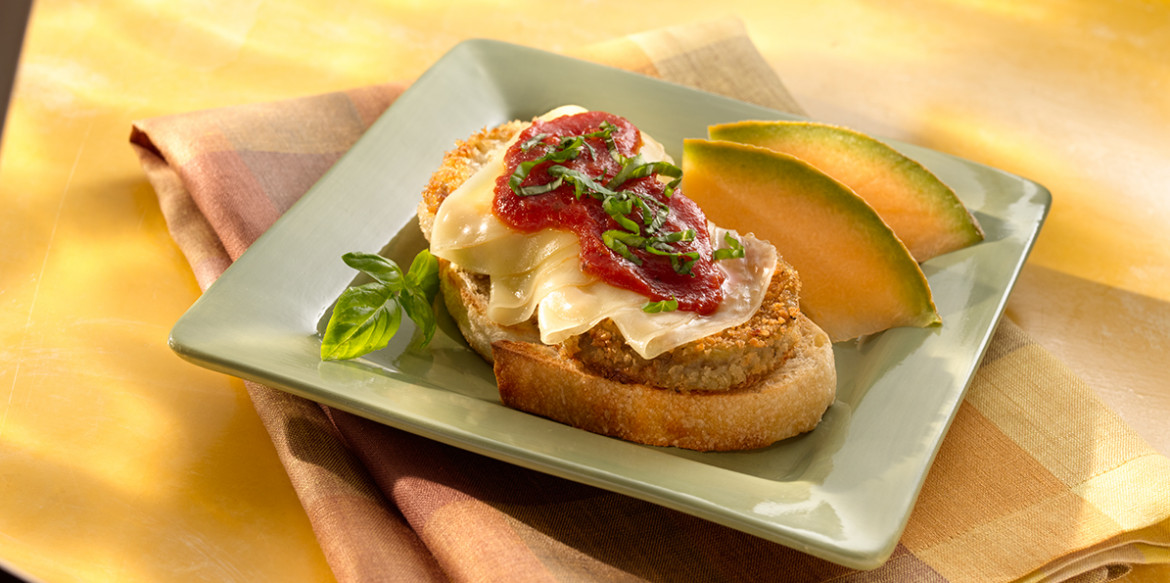 ---
This open-faced sandwich has too much flavor to keep enclosed between two slices of bread, so we've let it free and topped some toast with melted Sargento® Ultra Thin® Provolone Cheese Slices and a breaded slice of hearty eggplant, marinara sauce and fresh chopped basil for maximum Italian flavor.
Directions
Cut center of eggplant crosswise into four 1/2-inch thick slices. (If desired, reserve ends for another use.)
Beat egg with 2 teaspoons water in a shallow bowl. Mix bread crumbs and oregano in another shallow bowl. Place flour in a plastic bag. Shake each eggplant slice in flour to coat lightly. Dip each side in egg mixture letting excess drip off. Coat both sides in breadcrumb mixture.
Heat oil in a large nonstick skillet over medium-low heat until hot. Add eggplant; sauté 5 minutes per side or until golden brown and tender. Place cheese over eggplant; cover skillet and cook 1 minute or until cheese is melted. Place toast on two serving plates; place eggplant over toast.
Heat marinara sauce in same skillet until hot; spoon over eggplant and top with basil.
---