Bacon Double Cheeseburger
Prep Time: 10 min | Cook Time: 16 min | Servings: 1 | Calories: 1094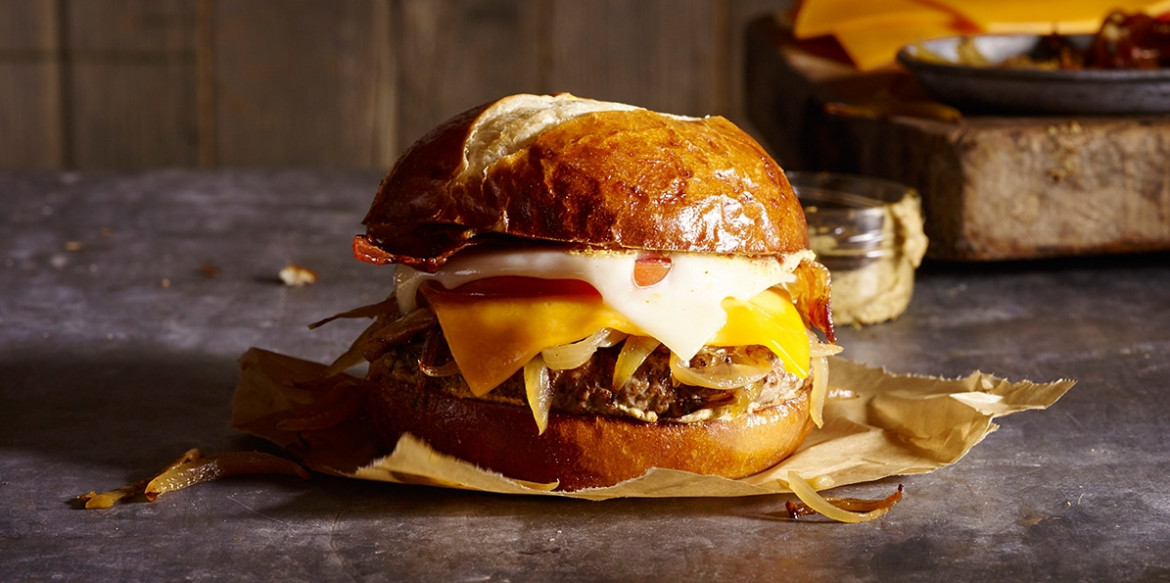 ---
<p>Tackle any hunger with this easy-to-make Bacon Double Cheeseburger layered with Sargento Sliced Cheddar &amp; Baby Swiss Cheeses.</p>
Ingredients
1 (6 oz.) ground chuck, shaped into a burger
3 tsp. olive oil, divided
1 burger bun
2 tsp. Dijon mustard
1/2 small onion, sliced
2 thick slices bacon, cut in half
1 slice (1/4-inch thick) ripe beefsteak or heirloom tomato
1/4 tsp. salt
1/4 tsp. pepper
Directions
Brush burger lightly with 2 tsp. olive oil and grill 7 to 9 minutes; turn. Cook 5 to 7 minutes more until desired doneness.
Meanwhile, toast bun and spread mustard on bottom half. Sauté onion in remaining 1 tsp. olive oil and cook bacon until crisp.
Place burger on bottom half of bun, top with onions and Cheddar.
Top with tomato slice, season with salt and pepper. Top with Swiss and bacon. Close with bun top.
---