Enchiladas Poblanas
Prep Time: | Cook Time: | Servings: 4 | Calories: 1070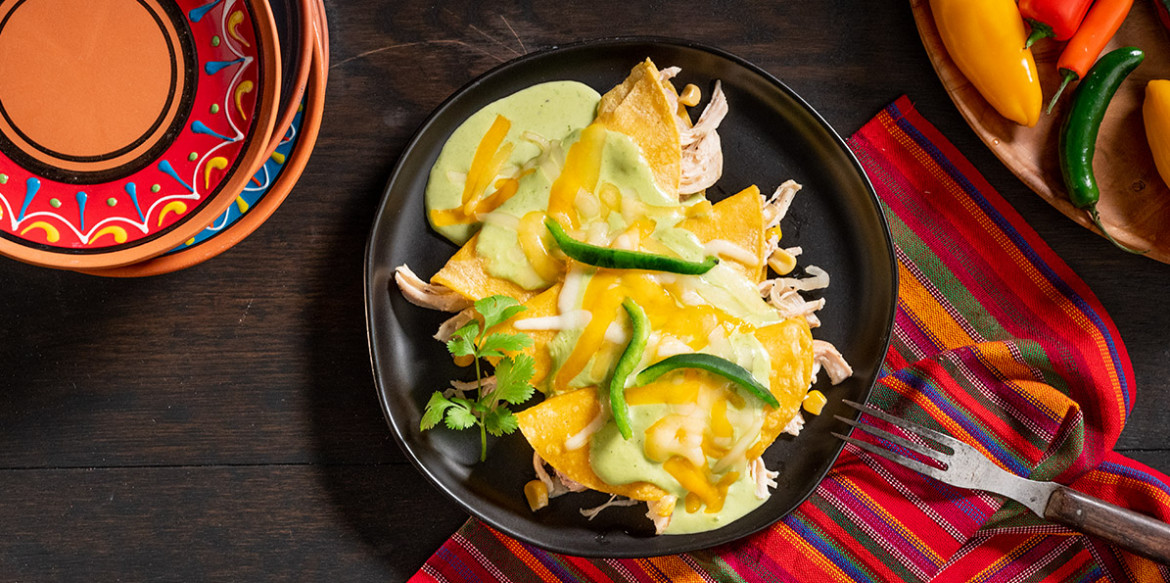 ---
<p>If your family loves Mexican food, here's a recipe you'll definitely want to add to your repertoire. The poblano salsa blends with melted Sargento® 4 Cheese Mexican to add a lovely creaminess to this enchilada dish.</p>
Ingredients
SALSA:
4 Tbsp. unsalted butter
4 Tbsp. chopped onion
1 medium garlic clove
1 1/2 cups poblano chili strips
2 cups crema
1 cup milk
salt and pepper to taste
CHICKEN FILLING:
2 Tbsp. vegetable oil
1/2 cup onion, diced
4 cups shredded chicken breast
1 cup gold and white corn kernels
salt and pepper to taste
ENCHILADAS:
12 corn tortillas
2 Tbsp. vegetable oil
GARNISH:
4 Tbsp. Poblano chili strips
4 Tbsp. gold and white corn kernels
Directions
SALSA: Melt butter in a skillet on medium high heat. Sauté onion and until lightly browned, add garlic and Poblano chili strips and sauté for 2 more minutes. Incorporate cream and milk. Simmer for 3 minutes, blend until smooth, season with salt and pepper to taste. Reserve covered to keep warm.
CHICKEN FILLING: Heat the oil and fry the sliced onion for 2 minutes, add chicken, corn kernels and mix, season with salt and pepper to taste.
ENCHILADAS: Lightly fry each tortilla with hot vegetable oil on both sides just to soften, stuff with the prepared chicken filling and fold in half, place on a heatproof plate, sauce the enchiladas completely with the poblano salsa, top with Sargento® Shredded 4 Cheese Mexican and bake from 8 to 10 minutes until cheese is melted, bubbly and lightly browned.
Top the enchiladas with extra roasted poblano chili strips and corn kernels.
---