Grilled Zarandeado Style Shrimp
Prep Time: 40 MIN | Cook Time: 15 MIN | Servings: | Calories: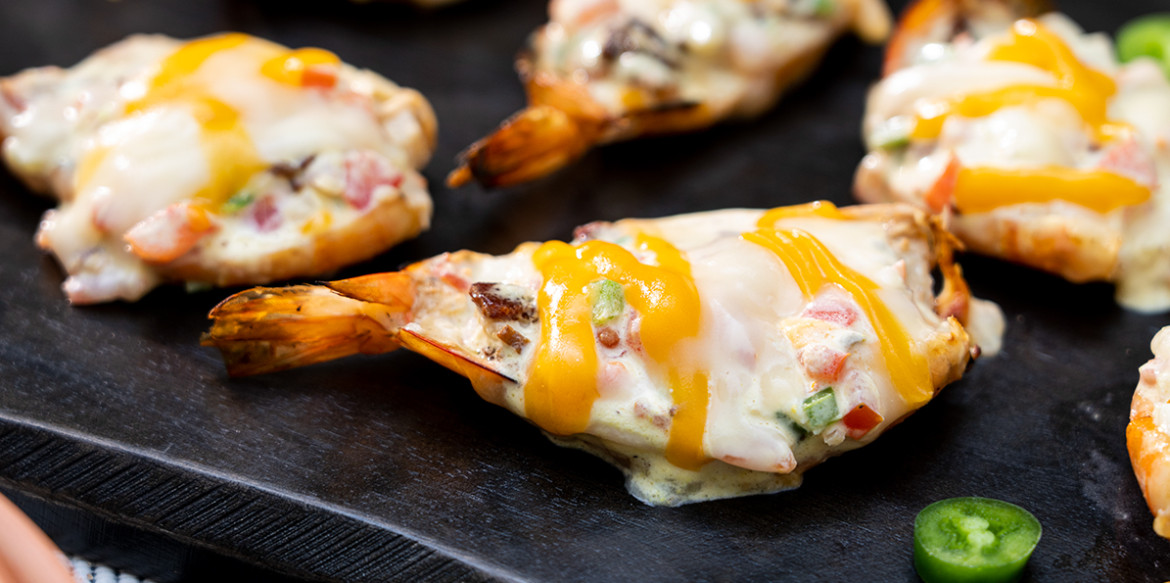 ---
Ingredients
For the marinated shrimp:
3 Tbsp. Lime juice
2 Tbsp. hot sauce (Cholula, Tapatio, Valentina)
1 Tbsp. Worcestershire sauce
1 tsp garlic powder
Salt to taste
Ground black pepper to taste
16 large shrimp, split in half and deveined (with shells)
For the filling:
2 Tbsp vegetable oil
3 slices smoked bacon (thin cut) chopped
¾ cup onion finely chopped
1 cup tomato finely chopped
½ jalapeño chili pepper seeded and minced
½ cup mayonnaise
1 Tbsp. yellow mustard
2 cups Cooked White rice
2 cups mixed salad
Directions
For the marinated shrimp: Combine lime juice, hot sauce, Worcestershire sauce, garlic powder, season with salt and pepper to taste. Pour marinade over shrimp (flesh side up), flip shrimp flesh side down and leave to marinade in refrigerator for 30 minutes.
For the filling: Heat oil in skillet on medium high, and fry bacon until crisp. Mix bacon with onion, tomato, jalapeño, mayonnaise, mustard, and cheese.
For cooking the shrimp: Light grill with charcoal until they're red, gray, and ashy.

Place shrimp flesh side down on grilling basket and cook for 2 minutes until they turn opaque.

Remove from heat. Spoon filling on top of each one and return to grilling basket.

Grill from 6 – 8 minutes or until shrimp are fully cooked through and cheese is completely melted.
For serving: Remove shrimp from grilling basket and serve with a side of white rice and mixed salad.
---