Articles
Host an unbeatable football party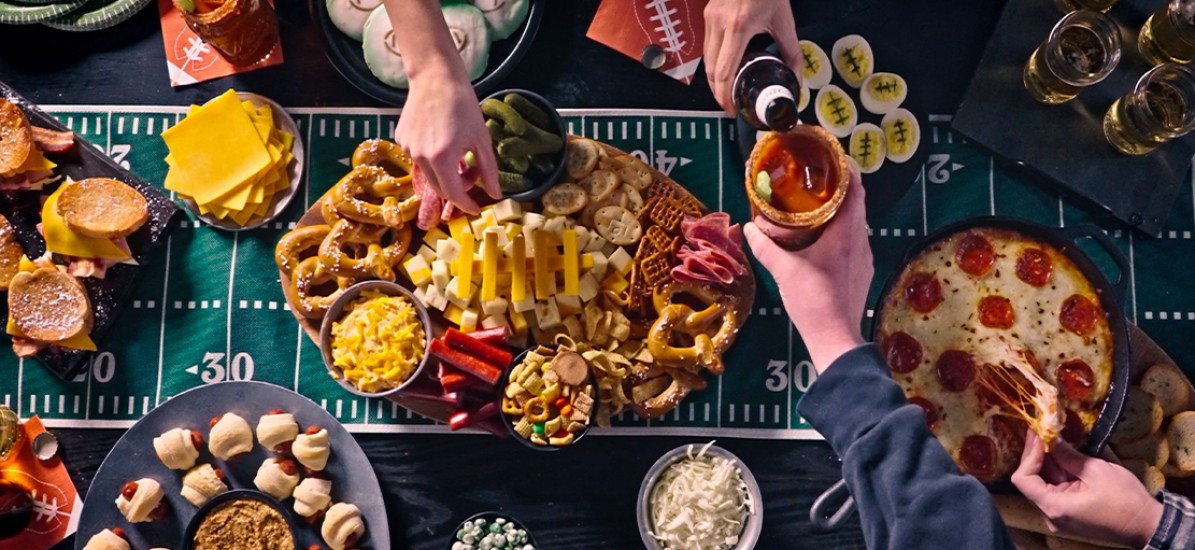 The wait is over – football season is here, bringing with it the pulse-pounding action, enthusiastic cheers, and a bounty of delectable snacks. Whether your allegiance lies with a team or you're more interested in the halftime extravaganza, a football game watch party offers the ideal occasion to bond with loved ones.
Transform your space into a football haven and craft an irresistible spread that's sure to satisfy. With Sargento® Cheese as your culinary MVP, you're in for an epic game day triumph. So, without further ado, let's delve into some winning strategies for a remarkable football bash.
1. Pregame prep
Go full-on with the theme by making sure your atmosphere says "team spirit!" There are a LOT of simple (and inexpensive) ways to do this. Add a few banners, plus plates, cups and plastic cutlery with a festive football design.
Or up the fun factor (and save some money) by decorating with team colors or jerseys. Think about your food as decor too. Our touchdown-worthy Football Nachos are a super easy "decoration" that's guaranteed to set the tone.
Arrange furniture so that the whole gang has a great view of the game – and create a space that makes it easy for your crew to converse and catch-up during commercials and between cheers.
2. It's gametime: Create a wow-worthy spread
We all know finger food is the real star on game day. So, here are a few mouthwatering recipes that will kick things off in the right direction:
Spinach Artichoke Dip: Get things started with this cheesy, creamy, chunky artichoke dip. This amazing dip uses Sargento® Shredded 4 Cheese Mexican with chopped artichoke hearts, chopped spinach, garlic, sour cream, mayo, cream cheese and diced green chilies and hot sauce for a little heat. YUM!
BBQ Beef Sliders: It's not really a party without mini burgers, right? These sliders are loaded with flavor (and some heat) thanks to the Sargento® Fiesta™ Pepper Jack Block Natural Cheese and red onion. Don't forget to smother 'em in BBQ for a rich, savory taste.
Want more game day shareables to add to your spread? Find tons of craveable crowd-pleasers here. You may even want to add something sweet to your table of goodies. Keep it simple with ice cream sundaes or go big with a themed dessert, like a football-shaped cake.
3. Keep 'em hydrated: Drinks for all ages
Quench everyone's thirst with plenty of beverage options, from cold beers to fresh mocktails and drinks for the kiddos. If your creative juices are flowing, create a signature cocktail (or kid-friendly beverage) and garnish or accent with football themed items. It's certain to win over your guests!
With a crowd of cheering fans, tasty food, yummy drinks and a lively, welcoming atmosphere, you've got the winning recipe to score big at every game-day gathering you host this season.