Cheddar Chicken Ranch Salad
Prep Time: 15 min | Cook Time: 10 min | Servings: 4 | Calories: 570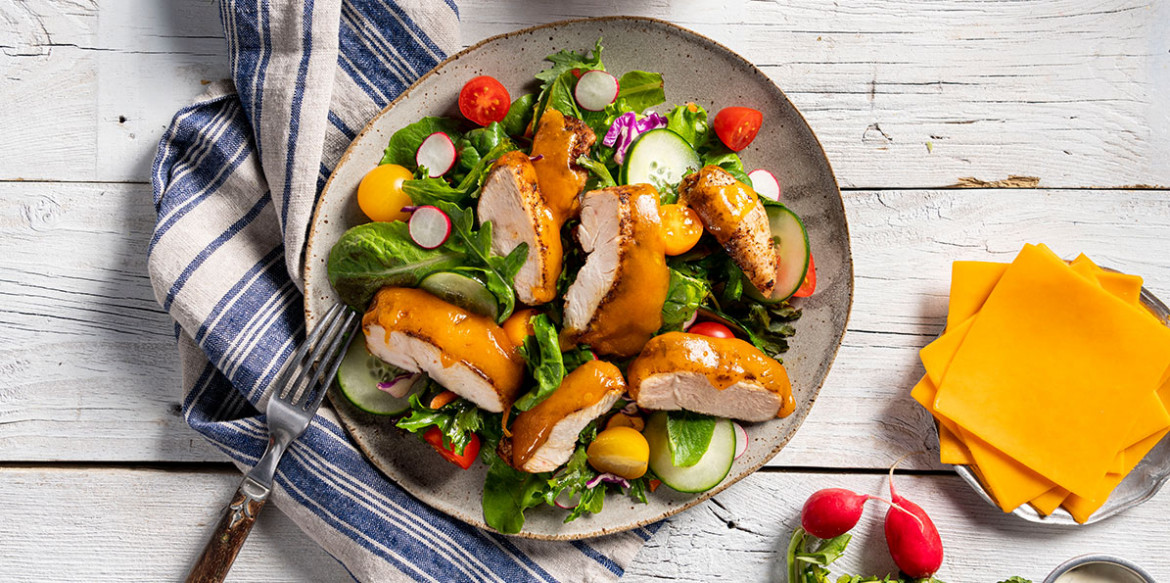 ---
Give a classic recipe a flavorful twist. It's boneless chicken sprinkled with Caribbean seasoning to serve the flavor of summer, and topped with delicious Sargento Mild Cheddar Cheese Slices, all accompanied by a variety of fresh greens. Enjoy.
Ingredients
2 tsp. Caribbean jerk seasoning blend
4 (5 to 6 oz.) boneless, skinless chicken breast halves, preferably free range or organically raised
2 tsp. canola oil
2 cloves garlic, minced
8 cups mixed salad greens
1 cup grape or cherry tomatoes, halved if large
1/3 cup light or regular ranch salad dressing
Directions
Sprinkle seasonings over both sides of chicken. Heat oil in a large nonstick skillet over medium heat. Add chicken and garlic; cook 5 minutes per side or until chicken is cooked through. Arrange cheese over chicken; reduce heat to low. Cover; cook 1 minute to melt cheese.
Meanwhile, in a large bowl, combine salad greens, tomatoes and dressing; toss well and transfer to 4 plates. Cut chicken crosswise into thick slices; arrange over salads.
---