Easy Cheesy Grilled Chorizo Pizza
Prep Time: 10 min | Cook Time: 15 min | Servings: 4 | Calories: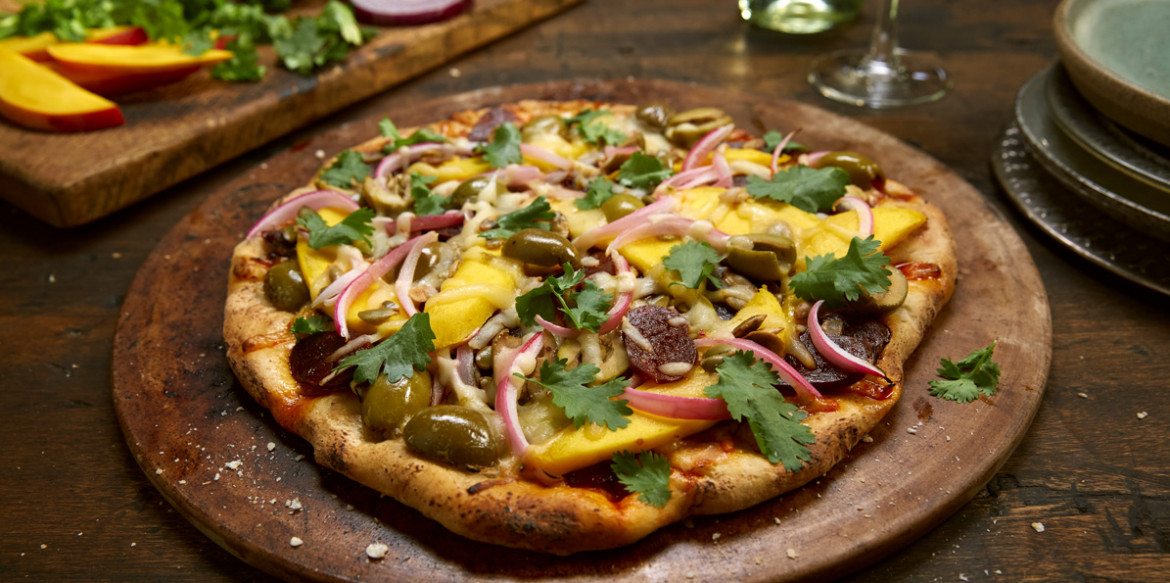 ---
Flatbread is topped with lots of Sargento® Shredded Pepper Jack Cheese, Spanish chorizo sausage, fresh mango, cilantro and olive halves. A sprinkle of pumpkin seeds rounds out this full flavored pizza.

Ingredients
1 small red onion, cut into strips
1/2 cup white wine vinegar
1 tbsp agave nectar or honey
1 tsp salt
1 ea. prepared flatbread
6 oz Spanish chorizo, thinly sliced
2 cups Sargento® Shredded Pepper Jack Cheese
1 cup mango, sliced
1/2 cup fresh cilantro leaves
12 ea. pitted green olives, cut in half lengthwise
2 tbsp toasted pumpkin seeds, optional
Directions
In a small bowl, combine white wine vinegar, agave nectar and salt. Stir in onion. Cover and refrigerate.
Brush flatbread with olive oil. Grill flatbread for 2-3 minutes over indirect heat. Turn flatbread over with grill tongs.
Sprinkle cheese and sliced chorizo over flatbread. Close lid and grill an additional 2-3 minutes or until cheese has melted. Transfer flatbread to a sheet pan with a long spatula.
Place mango slices over melted cheese and chorizo. Top with chopped cilantro, olive halves and pumpkin seeds. Cut and serve.
---