Stuffed Summer Squash
Prep Time: 15 Min | Cook Time: 60 Min | Servings: 6 | Calories: 352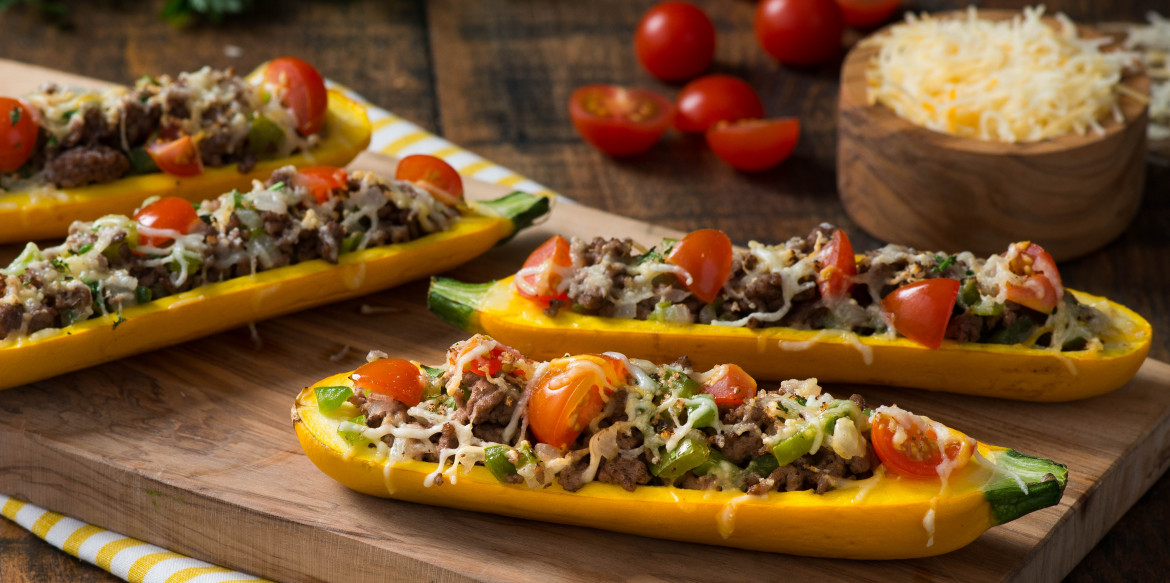 ---
A delicious side dish for a holiday feast, these ground beef, veggie and cheese-stuffed squash look festive—and they're very flavorful. Sargento® 4 Cheese Mexican tops them off with savory flavor.
Ingredients
6 summer squash or yellow zucchini (about 3 lb)
2 Tbsp olive oil
2 cloves garlic, minced
1 onion, diced
1 green pepper, seeded and diced
1 jalapeno pepper, seeded and diced
1 lb ground beef
1 tbsp chili powder
1/2 tsp salt
1/4 tsp freshly ground pepper
1 cup diced cherry tomatoes
3/4 cup panko bread crumbs
1 tbsp chopped fresh parsley
Directions
Line baking sheet with foil or parchment paper. Preheat oven to 400°F.
Halve summer squash lengthwise; scoop out and discard seeds, leaving about 1/2 inch border intact. Set aside.
In skillet, heat oil over medium heat; sauté garlic and onion for 3 or 4 minutes or until tender. Add green pepper and jalapeno; sauté for 3 minutes. Add beef, chili powder, salt and pepper; sauté for 4 or 5 minutes or until beef is no longer pink. Stir in tomatoes and half of the breadcrumbs and cheese. Divide among squash halves; arrange on prepared baking sheet.
Cover with foil and bake for 40 minutes or until squash is tender. Sprinkle remaining breadcrumbs and cheese over squash. Bake, uncovered, for 12 to 15 minutes or until breadcrumbs are toasted and cheese is melted. Sprinkle with parsley.
---