Cheese & Chicken Enchiladas
Prep Time: 30 min | Cook Time: 20 min | Servings: 4 | Calories: 683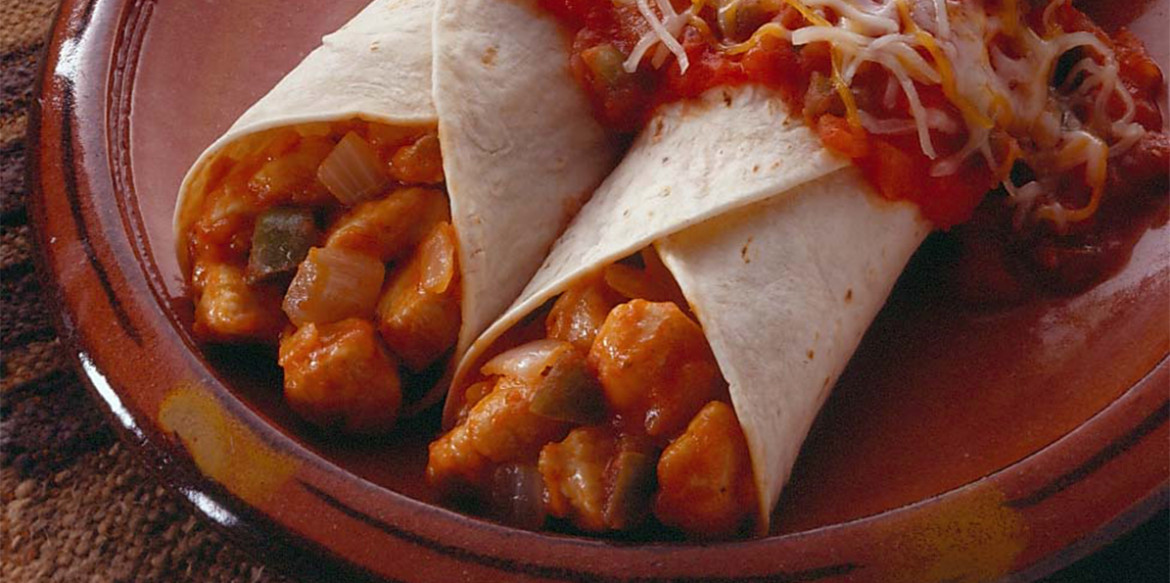 ---
Everyone loves mouthwatering, cheesy enchiladas and these are no exception. This Mexican-inspired dish features Sargento® Taco Blend Cheese melted inside and on top with the cool crunch of shredded lettuce, tomato and black olives.
Ingredients
8 oz. boneless, skinless chicken breasts or thighs
1 medium onion, chopped
2 cloves garlic, minced
2 tsp. vegetable oil
1-1/2 cups red or green salsa, divided
1 tsp. cumin
2 cups (8 oz.) Sargento® Shredded Taco Cheese, divided
8 (7-inch) flour tortillas
Shredded lettuce
Chopped tomato
Sliced ripe olives
Directions
Cut chicken into 1-1/2-inch pieces. Heat oil in large skillet over medium heat. Cook chicken, onion and garlic 5 minutes, stirring occasionally. Add 1/2 cup salsa and cumin. Cook 5 minutes, stirring occasionally.
Remove from heat; stir in 1 cup cheese. Spoon 1/4 cup mixture evenly down center of each tortilla. Roll up and place seam-side down in 11x7-inch baking dish. Spoon remaining 1 cup salsa evenly over tortillas.
Cover and bake in preheated 375°F oven 20 minutes or until hot. Uncover; sprinkle with remaining cheese. Let stand 5 minutes before serving. Garnish with lettuce, tomato and olives.
---