Roast Beef and Pepper Jack Sliders Recipe
Prep Time: 15 min | Cook Time: 2 min | Servings: 4 | Calories: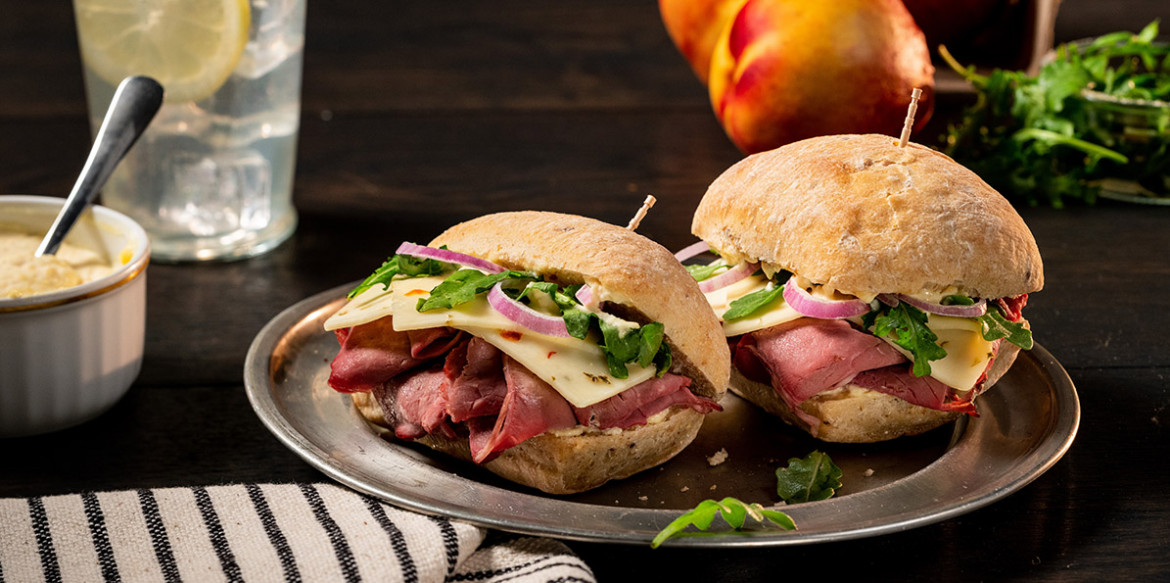 ---
Making a memorable sandwich just takes creativity and the willingness to be a little adventurous, like the peach-horseradish mayo for these roast beef and Sargento® Pepper Jack sliders. Baby arugula and red onion add a final touch of zippy flavor. These sliders can be served hot or cold.
Ingredients
8 ea. Mini ciabatta buns, split
1 lb Deli roast beef, thinly sliced
1 cup Baby arugula
1/4 small Red onion, thinly sliced
Drizzle of olive oil
Drizzle of balsamic vinegar
salt and freshly ground pepper, to taste
PEACH MAYO:
1/3 cup Whole-egg mayonnaise
1/3 cup Chopped peaches (fresh or canned, drained)
1 Tbsp Horseradish cream
2 tsp Lemon juice
Directions
For Peach Mayo: place all the ingredients in a small food processor, a blender or use an immersion blender; process until smooth. Transfer to a small bowl, cover and refrigerate until ready to use.
Place the bun halves, cut side up, on a flat surface and spread with the peach mayo. Top with the roast beef then the cheese.
Toss arugula with a little drizzle of olive oil and balsamic; sprinkle with a little salt and pepper. Top with sliced onion, arugula and bun tops. Serve any extra mayo with the sliders.
These sandwiches can be served hot by broiling the sandwiches prior to adding the onion and arugula mixture.
---