Classic Chef's Salad Recipe
Prep Time: 10 min | Cook Time: | Servings: 4 | Calories: 409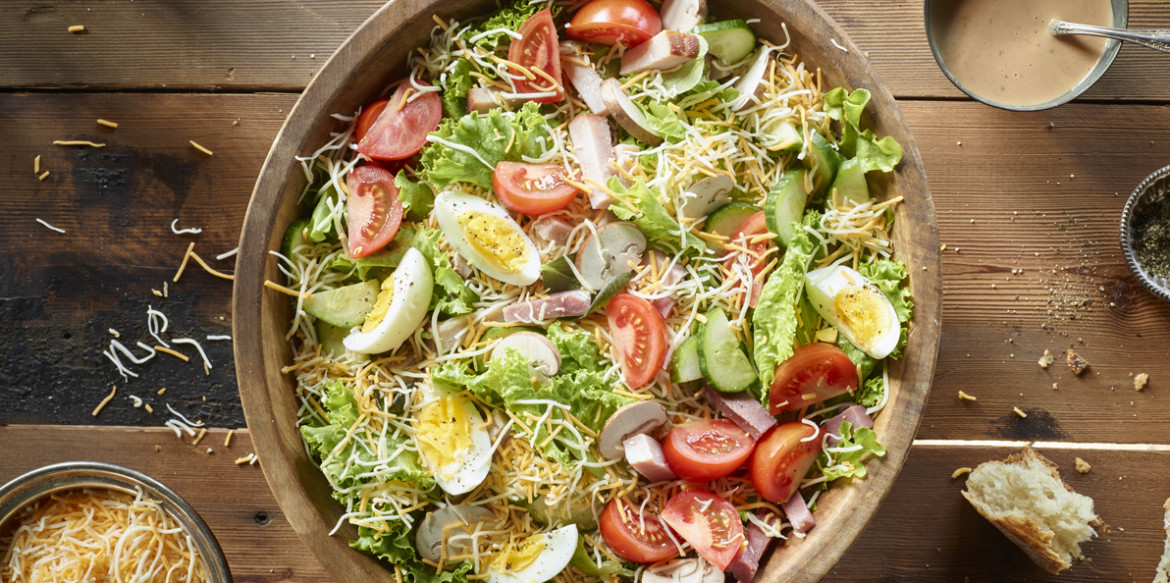 ---
This classic chef's salad is perfect anytime, especially when you're entertaining guests or hosting a party. Choose from a ton of fresh ingredients like ham, turkey, chopped eggs, tomato wedges and more with a generous helping of Sargento® Shredded Cheddar Jack Cheese alongside for that perfect cheesy flavor with every bite.
Ingredients
6 cups (10 oz.) salad greens
1/4 lb. thick sliced smoked cooked ham, cut into 1/4-inch strips
1/4 lb. thick sliced oven roasted turkey breast, cut into 1/4-inch strips
2 hard-cooked eggs, cut into quarters
1 large tomato, cut into wedges
1 small cucumber, sliced (optional)
1/2 cup sliced fresh mushrooms (optional)
1/2 cup Thousand Island or French salad dressing
Directions
Place salad greens on platter. Arrange ham, turkey, eggs and tomato over salad greens.
Top with cheese and croutons, bacon, cucumber and mushrooms, if desired. Serve with choice of dressing.
---