Turkey Cheeseburgers With Pickled Peppers, Onions & Cucumbers
Prep Time: 45 min | Cook Time: 7 min | Servings: 4 | Calories: 2286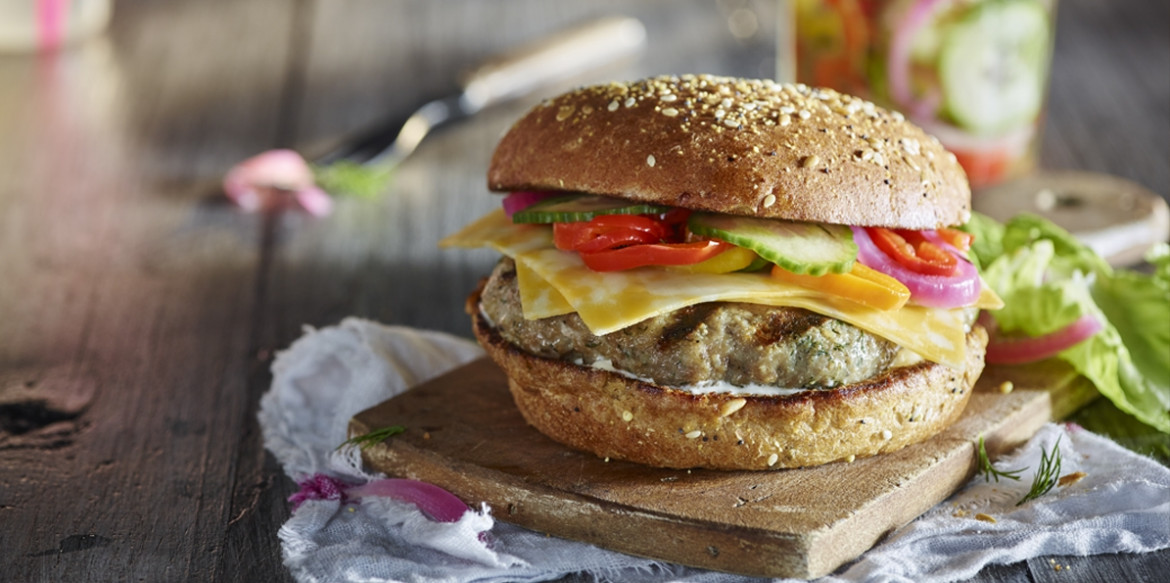 ---
A turkey cheeseburger is a great option when you want to opt for a lighter meal but don't want to give up your favorite burger flavor. You'll feel like a chef pickling your own peppers in a simple mixture of boiling water, vinegar and sugar and placing them on top of a seasoned turkey patty with delicious melted Sargento® Ultra Thin® Colby-Jack Cheese Slices on top.
Go to CookingLight.com for more recipes.
Ingredients
1/2 cup cider vinegar
1/2 cup water
2 tsp. sugar
3/4 cup thinly sliced mini sweet pepper rings
3/4 cup thinly sliced yellow bell pepper rings
3/4 cup thinly sliced green bell pepper rings
1/2 cup thinly sliced English cucumber
1/2 cup thinly sliced onion
3 tbsp. chopped fresh dill, divided
1 lb. 93% lean ground turkey
3/8 tsp. kosher salt
1/2 tsp. freshly ground black pepper
1/4 cup canola mayonnaise
4 whole-wheat hamburger buns
Cooking spray
Directions
Bring vinegar, water, and sugar to a boil, stirring to dissolve sugar. Place bell peppers, cucumber, onion, and 2 tbsp. dill in a large bowl; pour hot vinegar mixture over vegetables. Let stand 30 minutes, stirring occasionally. Drain.
Combine remaining 1 tbsp. dill, turkey, salt, and pepper. Shape turkey mixture into 4 patties. Heat a grill pan over medium-high heat. Add patties to pan; cook 3 minutes. Turn patties over; cook 2½ minutes. Top patties with cheese; cook 1½ minutes or until desired degree of doneness.
Spread mayonnaise over bottom halves of buns. Top with patties. Divide vegetable mixture over patties; top with top halves of buns.
---