Chicken and Cheddar Panini with Cranberry Apple Slaw Recipe
Prep Time: 15 min | Cook Time: 15 min | Servings: 4 | Calories: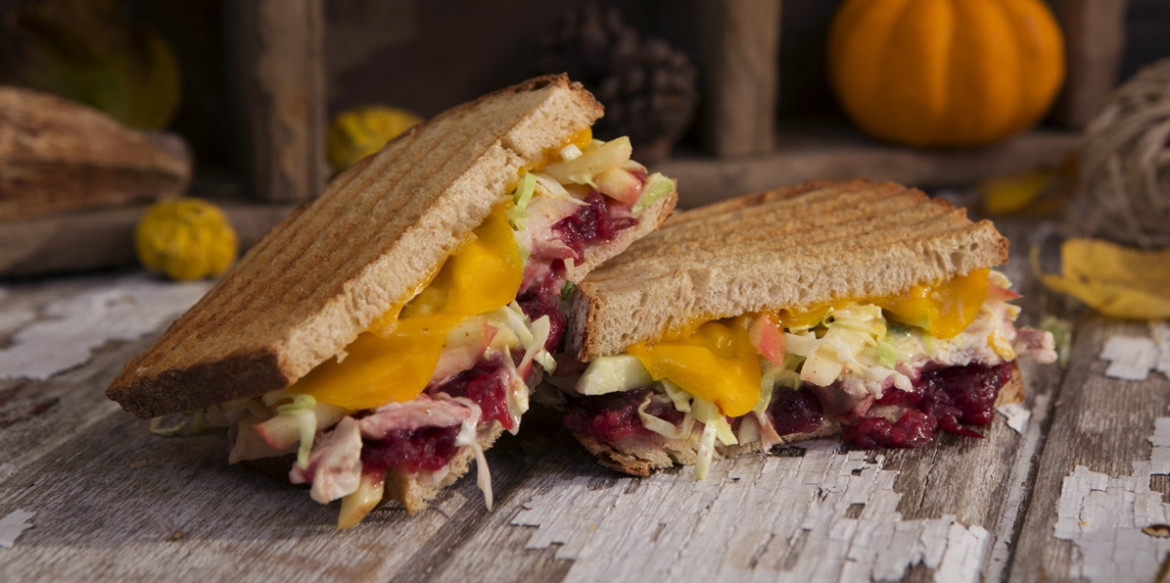 ---
The fresh cranberry apple slaw is the perfect cool, crunchy companion to the chicken and melted Sargento® Mild Cheddar cheese in this mouthwatering panini. Pick up a rotisserie chicken for this easy-to-make recipe.
Ingredients
1 Tbsp. salad dressing
4 slices rustic honey whole wheat bread
8 slices Sargento® Ultra Thin® Mild Cheddar Cheese Slices
2 cups deli rotisserie chicken, shredded
2 Tbsp. smoked almonds, chopped
¼ cup fresh cranberries, chopped
1 cup green or red cabbage, shredded
1 cup fresh apple, julienned (any combination of Granny Smith, Golden Delicious, Honey Crisp)
1 tsp. honey
1 Tbsp. fresh chives, chopped
1 Tbsp. deli mustard
2 Tbsp. butter, melted
Directions
In a small bowl, combine salad dressing and next 3 ingredients. Set aside.
In a medium size bowl, gently toss apple, cabbage and cranberries. Stir in dressing just until coated. Add chopped almonds and set aside.
To assemble: Place 4 slices of bread on a clean, flat surface. Top each slice with one slice of cheese. Add chicken, prepared slaw and remaining cheese slices. Top with bread. Brush both sides of sandwich with melted butter.
Grill sandwiches one at a time in a hot panini machine for 5 minutes or until bread is golden brown. Enjoy.
---