Rainbow Charcuterie Board Recipe
Prep Time: 30 Min | Cook Time: | Servings: | Calories: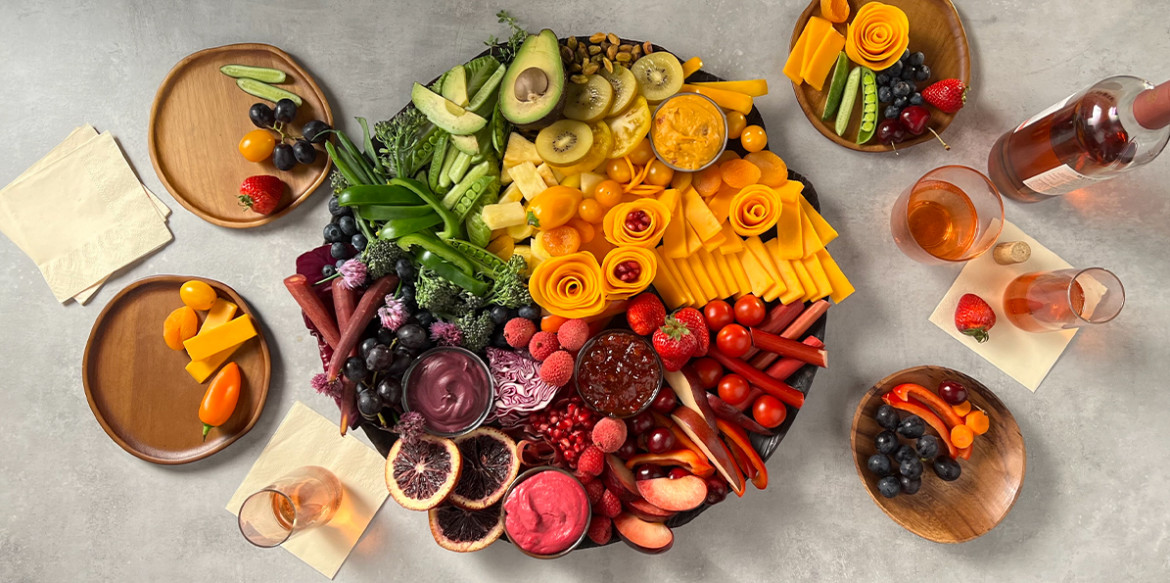 ---
Wow your guests with this rainbow charcuterie board! This beautiful, vibrant mouthwatering charcuterie board is full of fruits, veggies, nuts and plenty of Sargento® Cheese!
Ingredients
½ cup purple grapes
¼ cup purple cabbage
3 whole purple carrots
6 whole chive flowers
1 lg green pepper
4 cups snap peas
1 med broccolini
1 lg avocado
4 sliced kiwis
1 lg red pepper
½ lb red cherries
2 ripe plums
16 oz pomegranate seeds
1 blood orange, sliced
1 cup pistachios
1 cup yellow grape tomatoes
1 cup apricots
1 cup pineapple
3 stalks rhubarb
2 cups strawberries
1 cup grape tomatoes
1 sliced Asian pear
Pre-made Carrot Hummus (orange and purple)
Pre-made Beet Hummus
Directions
For cheese slice flowers: shingle out about 5 cheese slices in a straight line on a flat surface so they slightly overlap. Starting with the bottom slice of cheese, roll the entire line of cheese to create a follower shape. Adjusting the angle of the cheese before you start rolling will result in slightly different designs. When rolled up, you can secure it with a tooth pick. Set aside for use on the charcuterie board.
On a platter or cutting board, arrange ingredients listed by color and enjoy!!!!!
---