Vegetable Pita Pizzas
Prep Time: 10 min | Cook Time: 1 min | Servings: 4 | Calories: 262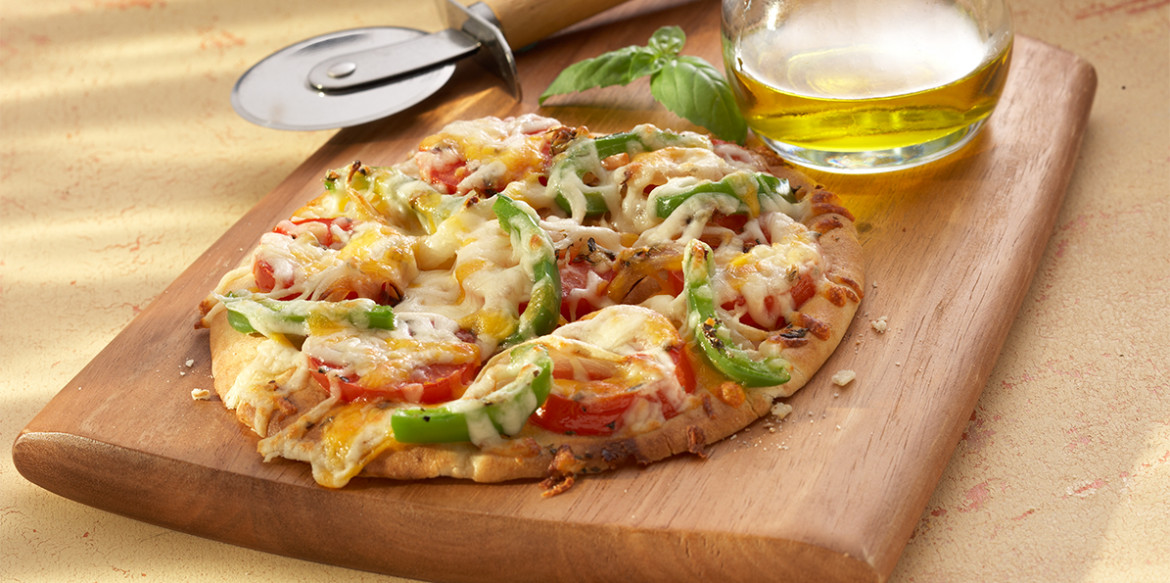 ---
Make these delicious pita pizzas in a snap! Onion wedges, minced garlic, bell pepper strips and thyme simmered in a chicken broth are topped with a layer of smooth melted Sargento® Shredded 4 Cheese Pizzeria for rustic flavor you crave with every bite.
Ingredients
1 small onion, cut into thin wedges
2 cloves garlic, minced
1 tsp. olive oil
2 small green bell peppers, cut into thin 1-inch strips
1/4 cup reduced-sodium chicken broth
1 tsp. dried basil
1/4 tsp. dried thyme
1/4 tsp. red pepper flakes
1/4 tsp. salt (optional)
4 large plum tomatoes, thinly sliced
2 (6-inch) pita breads, split horizontally
Fresh basil, for garnish
Directions
Cook onion and garlic in olive oil in large skillet over medium heat 2 minutes; stir occasionally. Add pepper strips, broth, basil, thyme, pepper flakes and salt, if desired; cook 5 minutes or until vegetables are tender, stirring occasionally.
Layer tomatoes evenly over pita breads; top with warm vegetable mixture. Sprinkle evenly with cheese. Place under preheated broiler 5 inches from heat 1 minute or until cheese is melted. Garnish with fresh basil.
---