Tortilla Lasagna Recipe
Prep Time: 45 min | Cook Time: 40 min | Servings: 8 | Calories: 538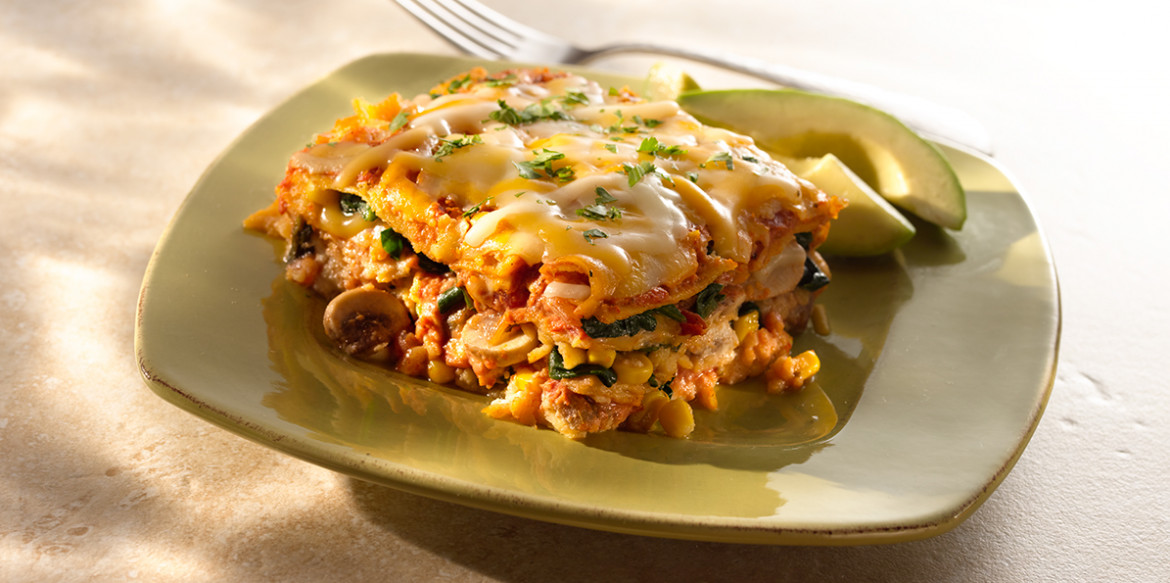 ---
Give this Mexican-style lasagna a try and indulge in the flavors of corn tortillas layered with a savory blend of mushrooms, corn and spinach sautéed along with salsa and melted Sargento® Shredded 4 Cheese Mexican - Traditional Cut for a wonderfully smooth texture.
Ingredients
1 Tbsp. vegetable oil, plus oil for frying tortillas
12 oz. sliced mushrooms (button or shiitakes)
1-1/2 cups whole corn kernels
8 cups (10 oz.) baby spinach leaves
1/2 tsp. salt
16 (6-inch) corn tortillas
5 cups (40 oz.) chipotle salsa
1 cup heavy cream or crème fraiche
3 cups (12 oz.) Sargento® Shredded 4 Cheese Mexican - Traditional Cut or Sargento® Shredded Cheddar Jack Cheese
2 cups (15 oz.) Sargento® Whole Milk Ricotta Cheese
1/3 cup chopped cilantro
Directions
Heat 1 tablespoon oil in large skillet over medium heat. Add mushrooms and cook 5 minutes or until tender. Add corn and cook 1 minute more, remove mushrooms and corn from skillet; set aside. Add spinach to skillet; cook 3 minutes or until wilted. Place spinach in colander and gently squeeze out excess moisture. Add mushrooms, corn and salt to spinach; set aside.
Coat small skillet with 1 teaspoon oil. Fry tortillas one at a time over medium heat a few seconds per side. Add additional oil as needed. Drain on paper towel; cut tortillas into halves.
Mix salsa and cream in small bowl. Spread 1/2 cup salsa mixture over bottom of greased 13x9-inch baking dish. Cover with 8 tortilla halves. Top tortillas with 1/3 vegetables, 2/3 cup Ricotta, 1-1/4 cups salsa mixture and 3/4 cup shredded cheese. Repeat layering 2 more times. Top with 8 tortilla halves, remaining salsa mixture and cheese.
Cover with foil; bake in preheated 350°F oven 25 minutes. Uncover; bake 15 minutes more or until lightly browned. Sprinkle with cilantro before serving.
---