Short Rib & Aged Cheddar Pot Pie Recipe
Prep Time: 10 Min | Cook Time: 2.5 Hours | Servings: 4 | Calories: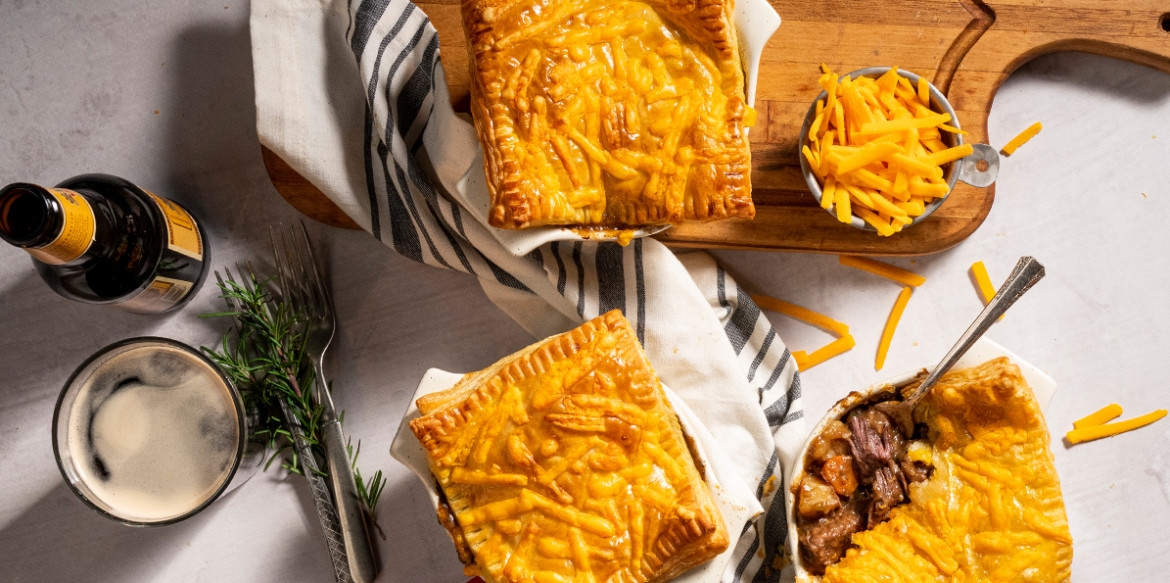 ---
Nothing beats a hearty homemade beef pot pie for a St. Patrick's Day meal. Nothing except an Irish stout braised beef potpie topped with Sargento® Reserve Series™ 18 Month Aged Cheddar then topped with a flaky aged cheddar crust that is.
Ingredients
2 lbs. Boneless beef short ribs, cut into 1" pieces
¼ cup Flour
1 ½ Tbsp. Vegetable oil
1 ½ cups Frozen pearl onions, thawed
3 med. Potatoes, peeled and cubed(1 ½ cups)
8 ea. Baby carrots, sliced
2 stalks Celery, chopped
2 tsp. Dried rosemary, crushed
1 tsp. Dried thyme
16 ozs. Irish stout beer
1 tsp. Worcestershire sauce
2 Sheets Frozen puff pastry, thawed
1 lg. Egg, beaten
Directions
In a medium bowl, combine flour, salt and pepper. Add pieces of short rib and toss until beef is coated with flour. Pre-heat oven to 325 degrees.
Pre-heat a heavy bottomed dutch oven over medium heat. Add floured beef and cook for 10-15 minutes, turning beef as it browns, until all sides are browned. Transfer beef to a bowl and let rest.
Add onions and next 5 ingredients to the dutch oven and cook for 3-5 minutes, stirring often until celery and carrots are softened. Stir in browned beef and stout. Cover and transfer to pre-heated oven. Cook for 1.75 hours.
Meanwhile, for puff pastry, cut both sheets of puff pastry into 4 squares each. Brush each square with egg, then sprinkle about 1 tablespoon of cheese over each of the 4 squares. Top with remaining pastry squares, then crimp edges to seal. Cut 2 slits in the top of each square. Set aside.
To assemble pot pies: Remove pot from oven, then turn up heat to 425 degrees. Fill 4 individual casserole dishes with braised beef mixture. Divide ½ cup of cheese on top of filling. Place reserved puff pastry squares over cheese and filling. Brush tops of puff pastry with egg, then sprinkle remaining ½ cup of cheese on top of crust. Transfer dishes to a large sheet pan, then place in oven.
Bake for 25 minutes or until pastry is golden brown and cheese is nicely toasted. Remove from oven and serve.
---