Sheet Pan Chicken Dinner
Prep Time: 15 Min | Cook Time: 30 Min | Servings: 4 | Calories: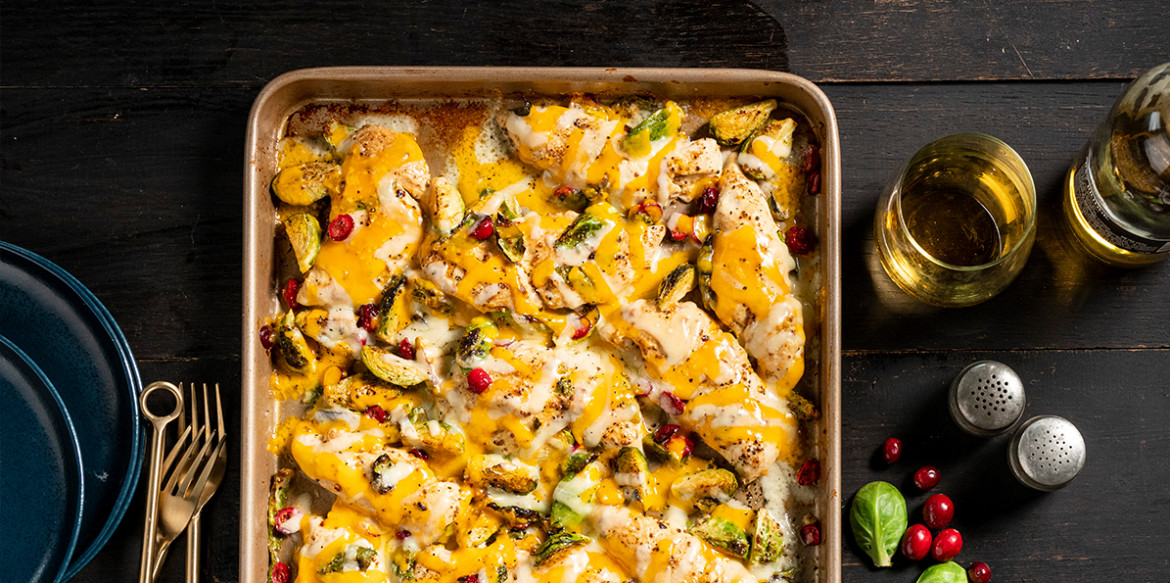 ---
One pan, less than an hour to make and the perfect combination of flavors including lots of Sargento® 4 State Cheddar Cheese®, makes this dish perfect for every member of the family.
Ingredients
½ cup Mayonnaise
¼ cup Stone ground mustard
2 Tbsp. Milk
1 tsp. Orange zest
12 ea. Fresh chicken tenderloins
14 ea. Fresh Brussels sprouts, quartered
½ cup Fresh or frozen cranberries, halved
2 cups Sargento® 4 State Cheddar®
Salt & pepper, to taste
Directions
Pre-heat oven to 425 degrees. Spray a large sheet pan with non-stick spray. In a large bowl, combine mayonnaise, mustard, milk and orange zest.
Add chicken and brussels sprouts and toss to coat completely. Transfer chicken and brussels sprouts to the pan keeping some space between them. Add cranberries to the pan. Roast for 20 minutes.
Remove pan from oven and sprinkle cheese over chicken and sprouts. Return to oven and roast an additional 5-10 minutes or until cheese is completely melted. Season with salt and pepper and serve.
---