Cheesy Mexican Quinoa Bake Recipe
Prep Time: 25 Min | Cook Time: 20 Min | Servings: | Calories: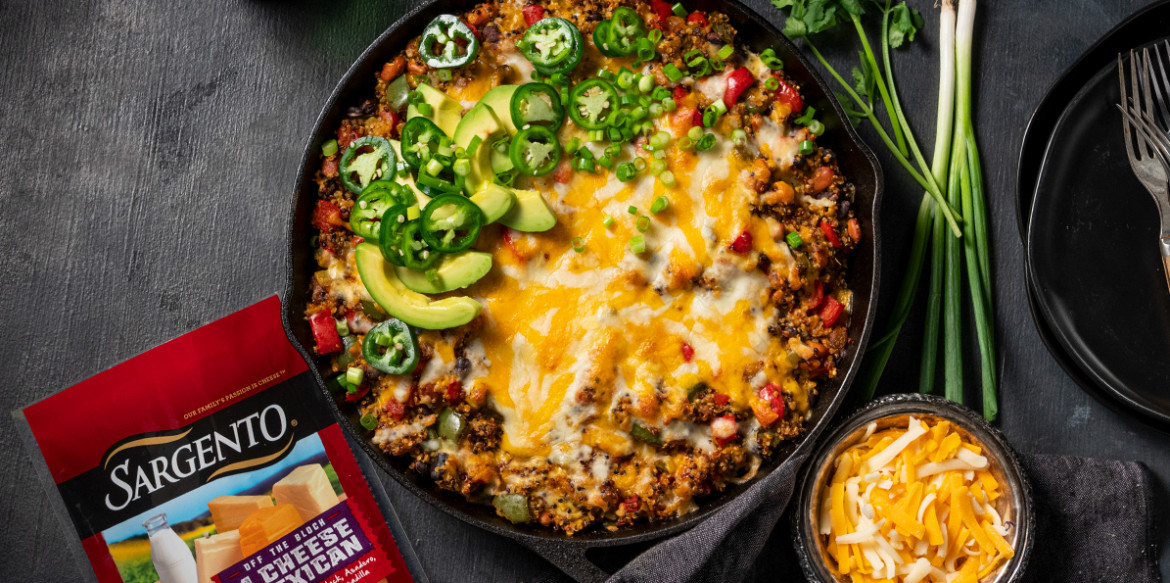 ---
This quinoa cheddar bake includes a combination of flavorful veggies, quinoa and a mix of spices, then it is piled high with Sargento® 4 Cheese Mexican. Try this for your next family dinner night!
Ingredients
2 cups Quinoa, uncooked - any color
4 cups Vegetable broth
2 Tbsp. Cooking OIl of choice
1 small Yellow onion, diced
1 each Red Bell Pepper, diced
2 each Green Bell Pepper, diced
2 Tbsp. Chili Powder
1 Tbsp. Cumin, ground
1 tsp Red pepper flakes
3 cloves Garlic
16 oz. jar Salsa verde or Salsa of choice
15 oz. can Black Bean, rinsed and drained
15 oz. can Pinto Beans, rinsed and drained
4 oz. can Diced Green Chillies
1 cup Greek yogurt of choice
8 oz Sargento® Shredded 4 Mexican, divided
1 cup Green onion, sliced
1 each Avocado, Sliced
1 each Jalapeno, sliced
½ cup cilantro, chopped
Salt and pepper to taste
Directions
Preheat the oven to 350 degrees F. Coat a large casserole dish (9x13 inch or similar) with nonstick spray and set aside.
Place Quinoa, Vegetable broth and 1 tsp. Salt in a large saucepan, then bring to a low boil. Reduce heat to low, cover and let simmer for 10 minutes.  Remove from heat and let stand, covered, for 5 minutes.  Fluff with a fork, then pour into large mixing bowl. Set aside.
Reuse the same saucepan for this next step.  Heat the cooking oil over medium high. Add the onion, green bell pepper, and red bell pepper. Sauté until slightly softened, about 3 minutes. Add the chili powder, cumin, salt and red pepper flake. Saute for 1 to 2 minutes. Add the garlic and Salsa, cook 1 additional minute. Remove from the heat, and pour mixture into the Quinoa bowl.  
Into the Quinoa bowl, stir in the black beans, Pinto beans, diced green chillies, Greek yogurt and 2 cup Sargento® 4 Mexican Cheese. Taste and adjust seasoning as desired.
Transfer the mixture to the prepared baking dish and spread evenly in the pan. Top with remaining 1 cup Sargento® 4 Mexican Cheese. Bake, uncovered, until the casserole is hot and cheese is melted and bubbly about 20 minutes. Let rest 5 minutes, sprinkle with green onions, avocado, jalapenos and chopped cilantro.  Serve and Enjoy.
TIP:  If you have leftovers this makes an amazing breakfast.  Reheat the Quinoa Cheddar Bake and top with a fried egg or scrambled eggs with cheese and some extra cilantro.  
---