Chicken & Spinach Enchiladas
Prep Time: 15 | Cook Time: 17 | Servings: 6 | Calories: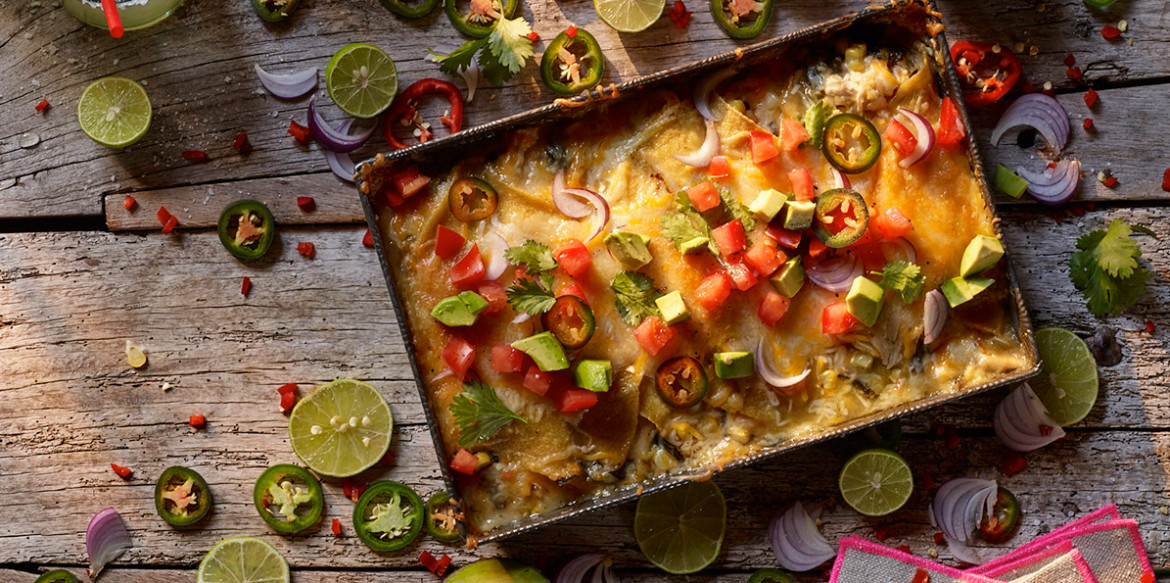 ---
You can never go wrong with enchiladas. Especially when they're made with juicy chicken breast and real, natural Mexican blend cheese that's always shredded fresh from the block. Bring this recipe to life using only the freshest ingredients, such as grilled corn, baby spinach, chopped green chilies and corn tortillas. These gooey, cheesy chicken enchiladas make for a great weekday dinner or a next day lunchtime leftover.
Ingredients
1 Tbsp. Cooking oil
1/2 Onion, diced
1/2 tsp. Cumin
1 Chicken breast, cooked and shredded
4 oz. Chopped green chilies
2 ears, grilled corn kernels
19 oz. Green enchilada sauce, divided
2 oz. Cream cheese, softened
4 cups Fresh spinach (loosely packed)
6-8 Corn tortillas
Optional : Chopped tomatoes, sliced jalapeños, and a lime for garnish.
Directions
In a large non-stick pan, heat oil over medium heat and sauté diced onion with cumin, stirring occasionally. Cook for 5 minutes until onions are soft and translucent. Add shredded chicken, green chilies, corn and 1/2 cup enchilada sauce. Stir and heat until warm. Remove from heat, stir in cream cheese, spinach and 1-1/2 cups cheese.
Prepare 7 x 11-inch pan with nonstick spray and spread 3/4 cup enchilada sauce in bottom. Divide filling among tortillas, roll then place on top of sauce in pan. Top with remaining enchilada sauce and cheese. Bake for 12 minutes at 375°F until cheese is melted.
Garnish with chopped tomatoes, sliced jalapeños, lime slices. Serve with chips, salsa and guacamole.
---