Green Chile Chicken Enchiladas
Prep Time: 20 min | Cook Time: 25 min | Servings: 4 | Calories: 588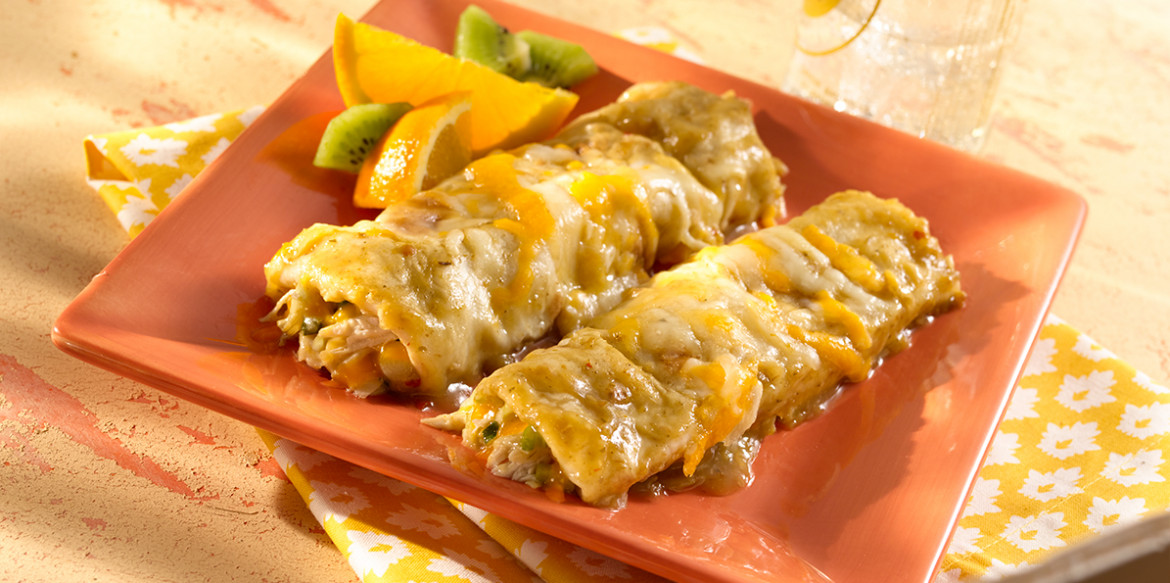 ---
Kick off your next fiesta with these green chile enchiladas: Made with hearty shredded chicken baked with artichokes in soft tortillas along with melted Sargento® Shredded 4 Cheese Mexican - Traditional Cut, your favorite enchilada sauce, and served with your favorite fresh garnishes like chopped tomato and sour cream.
Ingredients
1 cup cooked, shredded chicken
1/2 cup artichoke hearts
1 can (4-1/2 oz.) chopped green chilies, undrained
2 green onions, sliced
1 can (10 oz.) green enchilada sauce, divided
8 (6-inch) flour tortillas
1 large tomato, chopped (optional)
Sour cream
Directions
Mix together 1-1/2 cups shredded cheese, chicken, artichokes, chilies, onions and 2 tablespoons enchilada sauce.
Soften tortillas according to package directions. Fill each tortilla with about 1/2 cup cheese mixture; roll up. Place seam-side down in 13x9-inch baking dish coated with non-stick cooking spray. Pour remaining enchilada sauce over tortillas; sprinkle with remaining cheese.
Bake in preheated 375°F oven 20 minutes or until cheese is melted and filling is hot. Sprinkle with tomato if desired; serve with sour cream.
---