Chicken Florentine Lasagna
Prep Time: 20 min | Cook Time: 40 min | Servings: 8 | Calories: 547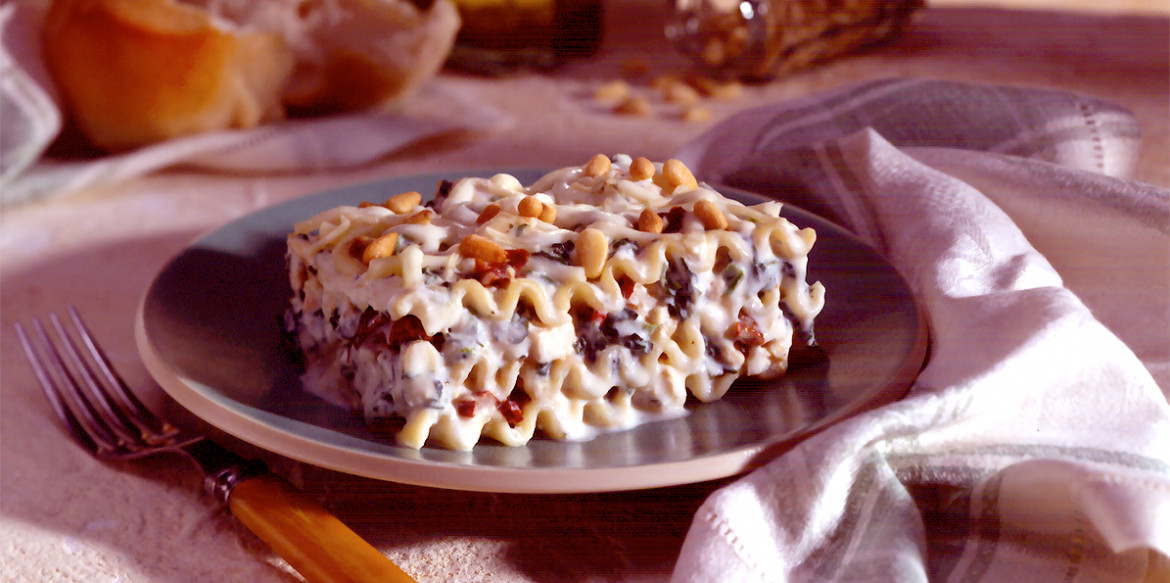 ---
This recipe offers a fresh take on regular lasagna using chicken and spinach (hence the name Florentine). A trio of Sargento® cheeses, Mozzarella, Parmesan and Ricotta, create the cheesiness you crave in a lasagna.
Ingredients
1 cup chopped onion
3 cloves garlic, minced
1/4 cup olive oil
3 Tbsp. all-purpose flour
3 Tbsp. dried basil
1/4 tsp. salt
1/8 tsp. pepper
1/8 tsp. nutmeg
4 cups milk
1 pkg. (10 oz.) frozen chopped spinach, thawed and squeezed dry
3 cups chopped cooked chicken
15 sun-dried tomatoes, drained and cut into thin strips (optional)
1/2 lb. lasagna noodles, cooked and drained
3 cups (12 oz.) Sargento® Shredded Mozzarella - Traditional Cut, divided
Toasted pine nuts or slivered almonds (optional)
Directions
Cook onion and garlic in olive oil in medium saucepan over medium heat 3 minutes or until tender, stirring occasionally. Remove from heat. Stir in flour, basil, salt, pepper and nutmeg until smooth. Gradually stir in milk. Heat to a boil over medium heat for 1 minute, stirring frequently. Boil and stir 1 minute. Stir in Ricotta cheese until blended. Stir in spinach, then chicken and sun-dried tomatoes.
Spread 1 cup Ricotta mixture in bottom of 13x9-inch baking pan. Layer 3 lasagna noodles over sauce. Top with one-third remaining Ricotta sauce, 1 cup Mozzarella cheese and 1/3 cup Parmesan cheese. Repeat layers of lasagna noodles, Ricotta sauce and cheeses. Top with remaining lasagna noodles and Ricotta sauce.
Cover with foil; bake in preheated 375°F oven 30 minutes. Uncover; bake 10 minutes more. Sprinkle with remaining Mozzarella cheese and 1/3 cup Parmesan cheese. Let stand 10 minutes before serving. Sprinkle with toasted nuts, if desired.
---