Enchiladas Cancun
Prep Time: 15 min | Cook Time: 20 min | Servings: 4 | Calories: 779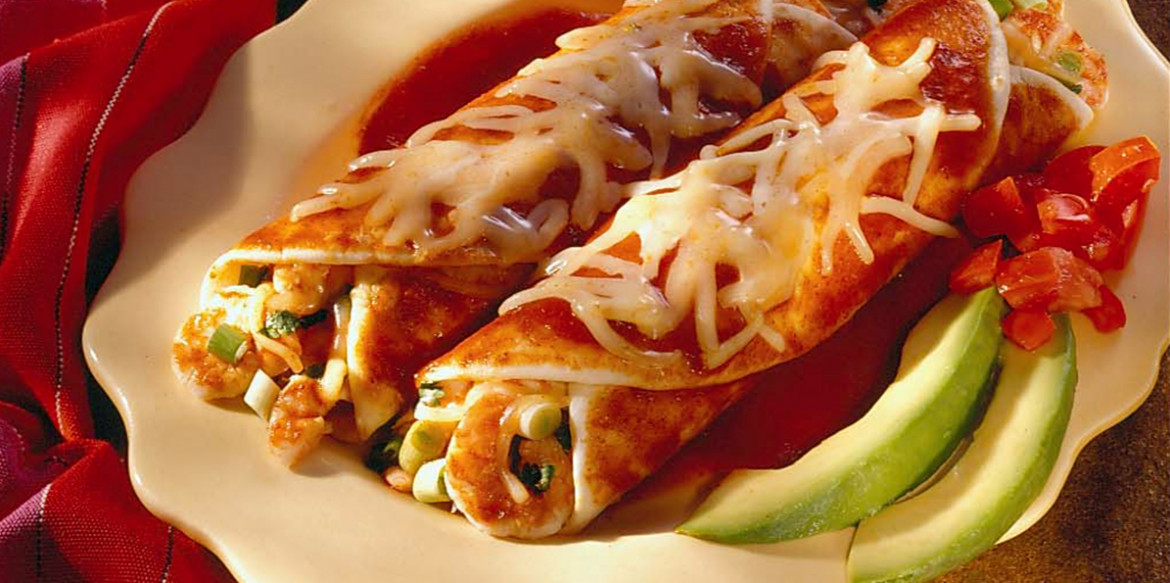 ---
<p>Loaded with chopped shrimp, green onions, fresh cilantro and more, these tasty enchiladas will reinvigorate your taste buds and spice things up in your kitchen. Once your enchiladas are rolled up and ready to bake, the perfect helping of Sargento® Shredded Pepper Jack Cheese will melt and make for a perfectly cheesy topping waiting for your favorite garnishes.</p>
Ingredients
2 cups (8 oz.) Sargento® Shredded Pepper Jack Cheese, divided
8 oz. chopped, cooked shrimp or shredded imitation crabmeat
1/2 cup chopped fresh cilantro
1/2 cup chopped green onions
2 cans (10 oz. each) mild enchilada sauce, divided
8 (7-inch) flour tortillas
Sour cream or light sour cream (optional)
Diced avocado (optional)
Directions
Combine 1-1/2 cups cheese, shrimp, cilantro, green onions and 1/2 cup enchilada sauce in a medium bowl. Spoon a heaping 1/3 cup cheese mixture down center of each tortilla. Roll up.
Spread remainder of first can of enchilada sauce in bottom of greased 13x9-inch baking dish. Arrange enchiladas, seam-side down, over sauce. Spoon second can of enchilada sauce over enchiladas.
Cover and bake in preheated 400°F oven 20 minutes or until enchiladas are heated through. Uncover; sprinkle with remaining cheese. Return to oven. Bake 3 minutes or until cheese is melted. Serve with sour cream and avocado, if desired.
---