Chicken Cannelloni
Prep Time: 30 min | Cook Time: 35 min | Servings: 8 | Calories: 499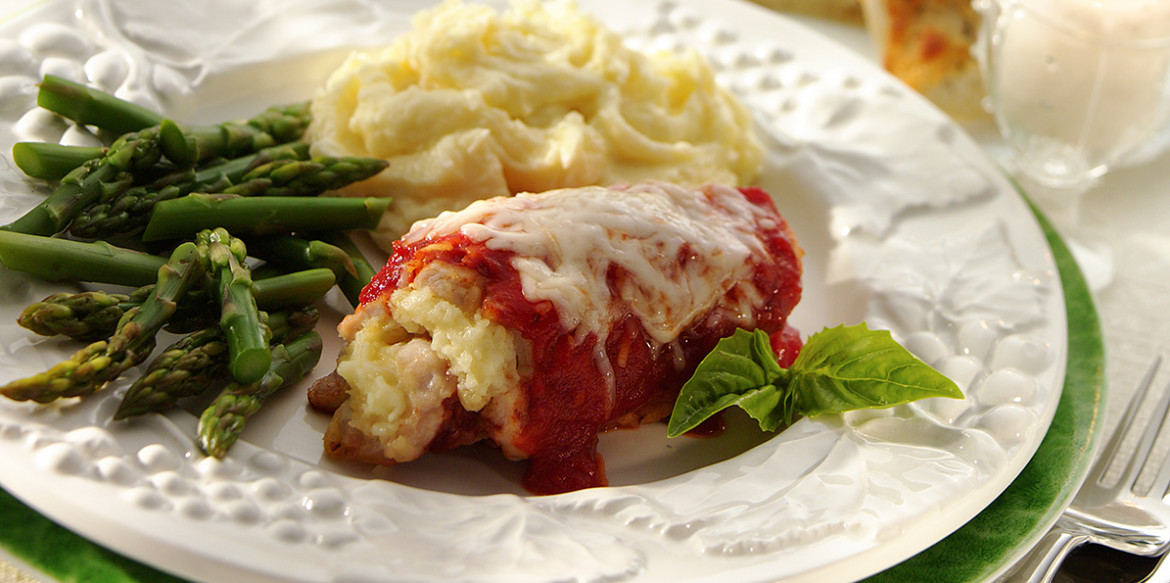 ---
<p>This adaptation of this Italian dish uses garlic mashed potatoes wrapped in turkey cutlets. Sargento® Parmesan adds an Italian cheese flavor in this elegant entrée.</p>
Directions
Stir 1-1/4 cups cheese into potatoes.
Combine flour, 1/4 cup cheese and pepper in a shallow dish. Spread tomato paste over one side of the cutlets. Dip each cutlet, tomato side down, in flour mixture to coat lightly. Place cutlet, coated side down, in a 13 x 9-inch baking dish. Spoon about 2 tablespoons mashed potatoes evenly over cutlet. Roll up cutlet; place seam-side down in dish. Repeat with remaining 7 cutlets. Sprinkle with 1/4 cup cheese. Spoon marinara sauce over cutlets; cover with foil.
Bake in a preheated 375°F oven 20 minutes. Uncover; top with remaining 3/4 cup cheese. Bake, uncovered, 15 minutes or until cutlets are cooked through and cheese is melted.
---