Spinach and Red Pepper Frittata Recipe
Prep Time: 15 min | Cook Time: 20 min | Servings: 4 | Calories: 394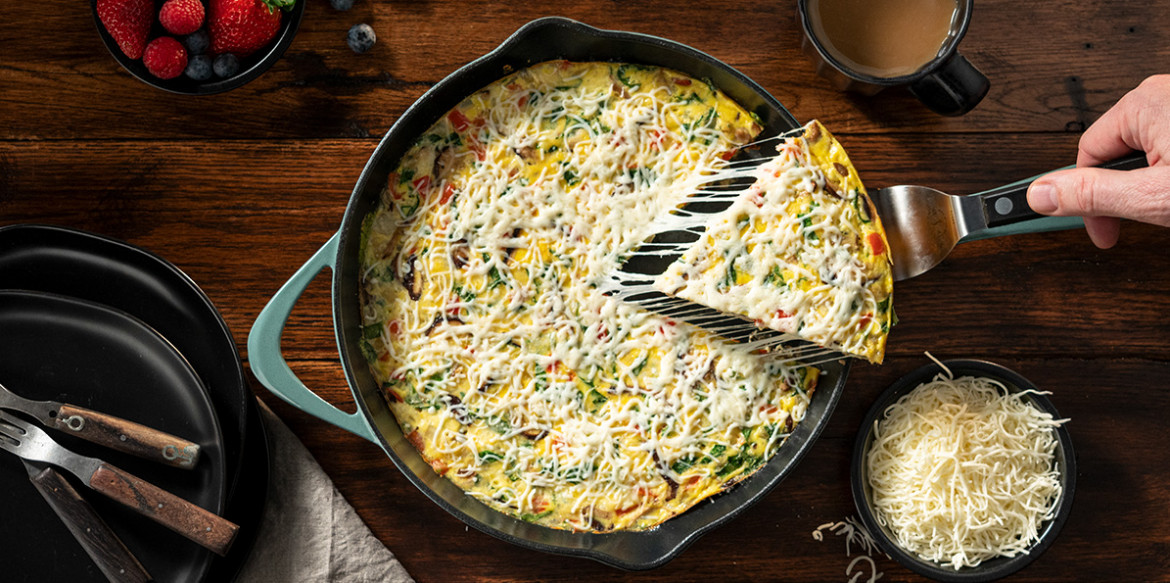 ---
Make this vibrant frittata and fill up on savory flavors from sautéed shiitake mushrooms, onions and bell peppers that are joined with shredded spinach and a mixture of whisked eggs, hot sauce along and Sargento® Shredded 6 Cheese Italian. There's cheesy flavor in every bite.
Ingredients
2 Tbsp. olive oil
1 cup chopped onion
1 cup chopped red bell pepper
1 pkg. (3.5 oz.) shiitake mushrooms, sliced (optional)
1 cup packed shredded fresh spinach
6 eggs
1/4 tsp. hot pepper sauce
Directions
Heat oil in large nonstick skillet over medium-high heat. Add onion, bell pepper and mushrooms, if desired, to skillet. Cook 6 minutes or until vegetables are tender, stirring occasionally. Add spinach; cook 1 minute.
Whisk eggs with hot pepper sauce in small bowl; stir in 1-1/2 cups cheese. Pour egg mixture over vegetables in skillet; stir once and flatten mixture evenly with spatula. Cook over medium heat 2 minutes or until eggs are set.
If skillet handle is not ovenproof, wrap with foil. Bake in preheated 350°F oven 12 minutes or until center is set. Carefully loosen frittata from pan with spatula. Place serving platter over skillet and flip frittata onto plate. Sprinkle with remaining cheese. Cut into wedges to serve.
---