Breakfast Pigs In a Blanket
Prep Time: 2 Min | Cook Time: 5 Min | Servings: 4 | Calories: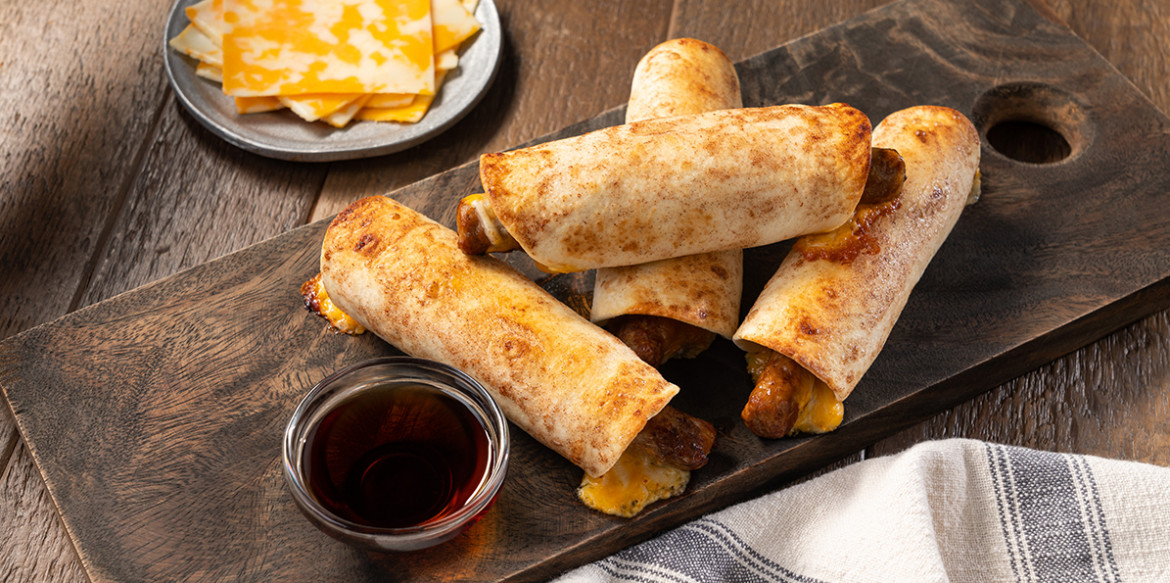 ---
When it comes to breakfast food, pancakes and sausage are a must have, so we decided to combine them and make an irresistible sweet-and-savory meal that's just as fun to eat as they are to make! Simply grab your favorite sausages, pancake mix, a package of Sargento® Sliced Colby-Jack.
Ingredients
4 6-inch Flour tortillas
4 4-inch Frozen pancakes, thawed
8 ea. Frozen pre-cooked breakfast sausage links, thawed
4 tsp. Maple syrup
1 Tbsp. Cinnamon butter spread, optional
Directions
Pre-heat oven or toaster oven to 375 degrees. Place the tortillas on a clean, flat surface. Top each with a pancake, then a slice of cheese and 2 sausage links. Drizzle syrup over sausages.
Place two of the tortillas in a microwave and microwave on high for 15 seconds. Remove from microwave and roll up both tortillas, ending with seam on the bottom.
Transfer roll-ups to a foil lined baking sheet. Repeat with remaining roll-ups. Brush cinnamon butter over tortillas. Bake for 5 minutes or until lightly browned. Transfer to plates and serve.
---