Spring Charcuterie Wreath
Prep Time: 60 MIN | Cook Time: n/a | Servings: | Calories: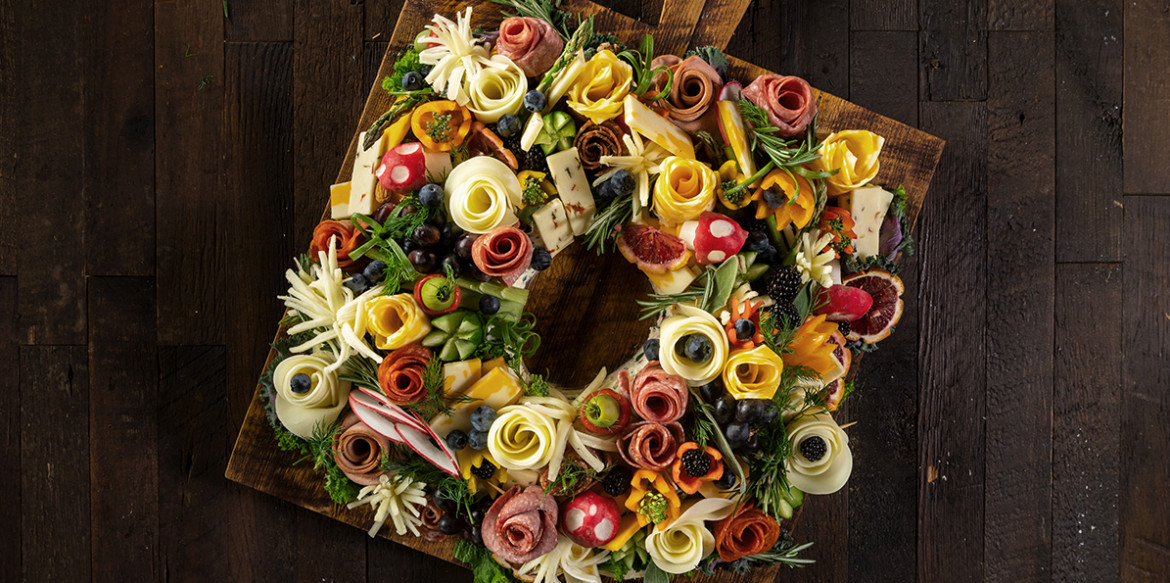 ---
Impress your family and friends this spring with this colorful charcuterie wreath featuring real cheese flowers
made with Sargento Cheese.
Ingredients
16 ozs. Cream cheese, softened
4 ea. Green onions, thinly sliced
¼ cup Parsley, finely chopped
24 slices Sargento® Ultra-Thin® Provolone Cheese
48 slices Salami, ham, bologna or pepperoni, thinly sliced
6 ea. Small, tri-color sweet peppers
1 ea. Baby cucumber, cut in half cross-wise
4 ea. Sargento® String Cheese, cut in half crosswise
½ block Sargento® Pepper Jack Cheese Block, sliced
½ block Sargento® Cheddar Cheese Block, sliced
4 large Radishes, washed, stems removed
½ cup Blueberries, washed
4 ea. Pitted green olives
4 small Pickled red peppers
½ cup Red grapes, washed
½ cup Fresh dill sprigs
½ cup Fresh rosemary sprigs
4 leaves Mustard greens, torn into 3"pieces
Assorted garnishes (green onion tops, asparagus, celery, blackberries, sage leaves, broccolini
Directions
For Cheese Spread Base: In a medium bowl, combine the first 3 ingredients. Mix on medium speed
with a hand mixer until well blended. Spray the bottom and sides of a 10 inch bundt pan with non-stick spray. Sprinkle parsley into pan, covering as much exposed area as possible. Spread cheese mixture into pan. Place a large board or tray over the top of the bundt pan flip the bundt pan so it is now upside down on the board, making sure to hold the board tightly against the pan while flipping.
Spread cheese out a bit to make the center hole larger. The size of the ring should now be about 12-14
inches in diameter. Cover cheese spread with plastic wrap and refrigerate for 30 min. Make cheese
and meat flowers while waiting for base to chill.
To make cheese and meat roses: Shingle 4 slices of provolone cheese side by side overlapping each by
about an inch. Fold all 4 slices in half at once. You will have 1 flat edge now. Starting from either end,
gently rollup folded cheese slices. Fasten the end by sticking a toothpick through the entire base.
Place flat side down on a small baking sheet lined with foil or plastic wrap. You can gently fold down
the edges of the cheese to make them look more like roses. Repeat process with remaining provolone
slices. Repeat process with Colby-jack cheese and salami or sliced meat of choice. You should now
have 6 provolone roses, 5 colby-jack roses and 12 meat roses.
To make string cheese flowers, gently peel ¼ inch strips of the string cheese downward to about an
inch from the bottom. Repeat with remaining halves of string cheese. You should have 8 string cheese
flowers when you are done. Cover cheese and meat flowers with plastic wrap and refrigerate until
ready to assemble wreath.
To make pepper and cucumber flowers: Using a small knife, make a criss-cross pattern about ½ inch
into the center of each pepper until each separates into two pieces. Repeat with remaining peppers.
You should now have 12 pepper flowers and 4 cucumber flowers.
To make radish mushrooms, using an apple corer, insert the end 1-1 ½ inches into the end of a radish,
leaving the corer in the radish. Use a knife or crinkle cutter to cut around the radish without going past
the corer. Carefully remove the ring of radish, exposing the corer. Now carefully remove the corer
while pushing the stem of the radish mushroom through the corer so it doesn't break. You should now
have a radish mushroom. Cut the red end off the end of the stem. Repeat with remaining radishes.
You should now have 4 radish roses
To assemble charcuterie wreath: Remove board with cheese spread and tray of cheese and meat
flowers from refrigerator. Press the cheese and meat flowers in random placement into the cheese
spread base. Add the cucumber and pepper flowers randomly into the base. Add cheese slices into
the gaps. Add remaining fruits, olives, herbs and garnishes to fill in any remaining gaps. Feel free to
add any other items to make your wreath unique. Serve.
Note: Meat and cheese flowers will be easier to assemble if the cheeses and meat are at room
temperature when folding and rolling.
---