Heritage French Onion Soup Recipe
Prep Time: 10 | Cook Time: 90 | Servings: 6 | Calories: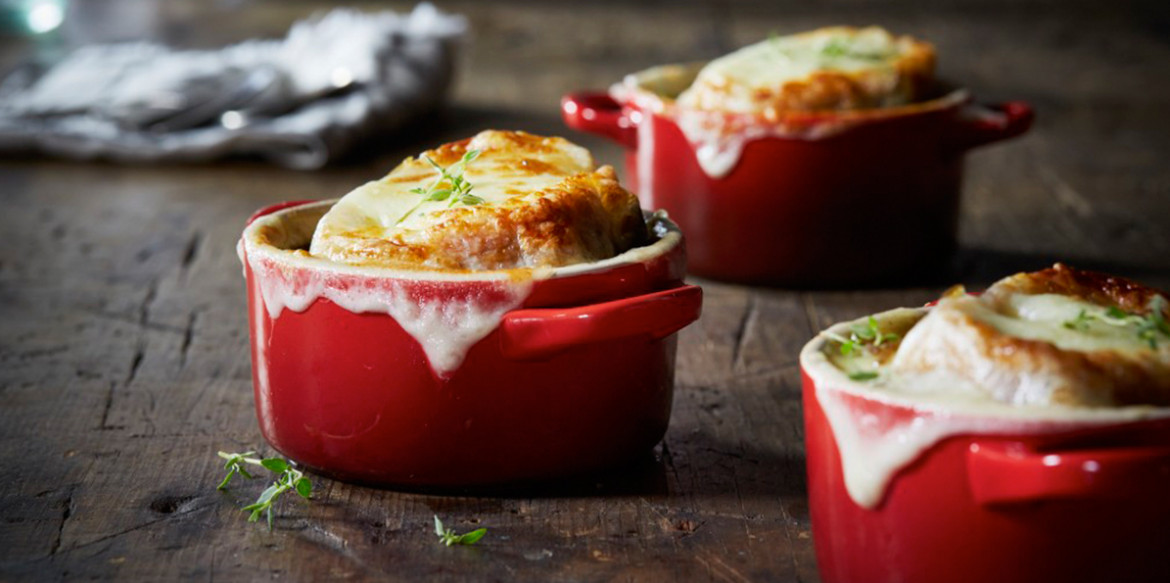 ---
Enjoy a steaming bowl of this soup made with fresh onions sautéed in butter, sherry and beef stock along with fresh thyme and topped with toasted baguette slices and melting Sargento® Ultra Thin® Swiss Cheese Slices. This soup looks and tastes truly delicious.
Ingredients
3 Tbsp. butter
1 Tbsp. olive oil
5 cups onions, sliced (about 3 large onions)
Salt and pepper to taste
1/2 tsp. sugar
1-1/2 Tbsp. flour
1/2 cup cooking sherry
6 cups beef stock
1 Tbsp. fresh thyme
6 Baguette slices
6 slices Sargento® Ultra Thin® Provolone Cheese Slices
1-1/2 cups (6 oz.) Sargento® Reserve Series® Aged Italian Blend
Directions
Cook onions in melted butter and olive oil in covered pot for 15 minutes. Uncover, season with salt, pepper and sugar. Cook another 30 minutes, stirring as needed, until onions turn a light golden brown.
Sprinkle flour over onions and cook a few more minutes. Add sherry, stock and thyme. Bring to a boil and turn down to a simmer. Cook 40 minutes.
Ladle into ovenproof bowls. Add baguette slice on top of each Cover the bread with cheese slices. Broil until slightly melted. Add shredded cheese on top of each bowl and continue to broil until cheese is mostly melted and browned.
---