Cheesy Bacon Pierogis
Prep Time: 50 min | Cook Time: 20 min | Servings: 4 | Calories: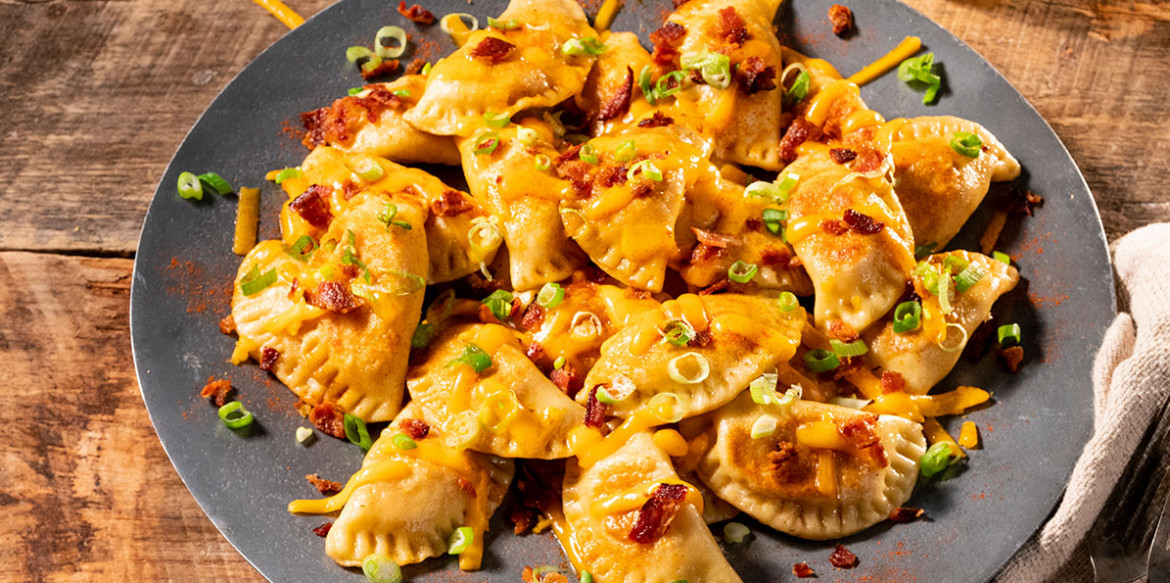 ---
This Polish staple just received a facelift with the addition of Sargento® Reserve Series™ 18-Month Aged Cheddar. Of course, when you combine it with mashed potatoes, bacon and green onions, you pretty much have the best tasting filled pasta ever!
Ingredients
DOUGH:
2 Lg. Eggs, beaten
1 Lg. Egg yolk
1/2 cup Milk
2 Tbsp. Sour cream
2 1/4 cups All-purpose flour
1 tsp. Salt
FILLING:
1 ½ cups Warm mashed potatoes
4 strips Crisp bacon, crumbled
2 ea. Green onions, chopped
2 Tbsp. Butter, melted
Directions
In a large bowl, combine eggs, yolk, milk and sour cream. Whisk until smooth. Add flour and salt. Gently stir until a sticky dough is formed. Lightly flour hands and knead dough on a floured surface 25 times. Wrap dough with plastic wrap and let rest while making filling.
For filling, in a large bowl, combine potatoes and remaining ingredients except for butter. Season to taste with salt & pepper. Let filling cool while rolling out and cutting dough.
To make pierogis, roll out the dough until the thickness of pie dough. Cut out circles with a 3" round biscuit cutter or drinking glass. Set dough rounds aside, then repeat until all dough is made into rounds. Place dough rounds on a flat surface and brush edges of each with cool water. Spoon about 1 tablespoon of mashed potato filling onto the center of each dough round.
Working one at a time, hold the dough round in one hand and fold over dough. Starting at one end, stretch dough, while pinching ends together until pierogi is sealed. Continue with remaining dough rounds and filling.
Bring a large dutch oven or saucepan half filled with water to a rolling boil. Add 1 tablespoon of salt. Add half of pierogis to water. Reduce heat to simmer and cook pierogis for 4-5 minutes or until pierogi's float to the top.
Meanwhile, Pre-heat a large non-stick skillet over medium-low heat. Add half of butter. When butter has melted, and pierogis are done, remove them with a slotted spoon and transfer one at a time to the skillet. Cook for 2-3 minutes per side or until golden brown. Transfer browned pierogis to a serving dish and set aside.
Add the remaining uncooked pierogis to the hot water while the first batch browns in the skillet. Repeat process above until all pierogis are cooked and browned. Sprinkle remaining cheddar on top and keep warm in the oven until ready to serve. Garnish with additional chopped bacon, green onions and paprika if desired. Serve.
---