Bacon Cheese Burger Dip Recipe
Prep Time: 10 min. | Cook Time: 15 min. | Servings: 4 | Calories: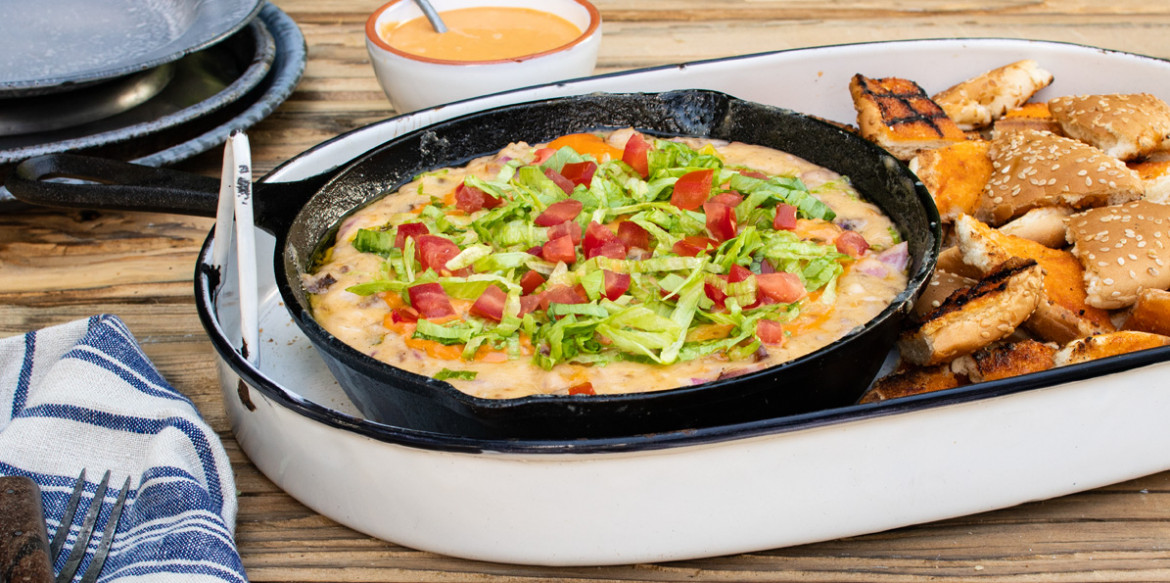 ---
This cheesy dip will make you feel like you are eating your favorite bacon cheeseburger in dip form. The flavorful bun chips are a great way to use leftover buns.
Ingredients
SPECIAL SAUCE BUN CHIPS:
1/4 cup Half & half
1 ea. Leftover hamburger patty, cooked and chopped (1 cup)
1/2 cup Red onion, diced
3 slices Cooked bacon, crumbled
2 cups Sargento® Shredded 4 State Cheddar® Cheese
2 cups Sargento® Shredded Mozzarella Cheese
5 ea. Sliced Pickles, chopped
1/2 cup Shredded iceburg lettuce
1/2 tsp Beef bouillon granules
1/2 cup Water
4 ea. Sesame seed buns
1/3 cup Prepared thousand island dressing
2 tbsp Ketchup
1 tbsp Yellow mustard
1/4 tsp Garlic powder
DIP:
2 tbsp Butter
2 tbsp Flour
1/4 cup chopped tomato
Directions
FOR SESAME BUN CHIPS:
Flatten each bun half using a can or the bottom of a plate or skillet. Set aside.
In a small bowl, stir together dressing, ketchup, mustard and garlic powder.
Spread special sauce over cut side of flattened bun halves. Set aside remaining sauce to use on the dip.
Toast bun halves over warm coals until crisp and golden brown. Cut each half into quarters. Transfer to a plate or basket. Set aside until ready to serve.
FOR DIP:
Pre-heat a seasoned 8" cast iron skillet over a medium hot fire. Add butter and melt completely. Stir in flour. Cook for 2 minutes, stirring after a minute.
Add bouillon granules to water and add to pan. Add half & half and stir or whisk until mixture is smooth. Stir in chopped hamburger, onions and bacon. Cook for 2-3 minutes or until thickened.
Stir in cheese 1 cup at a time, letting the cheese melt in before each addition.
When cheese is completely melted, stir in pickles and remove pan from heat.
TO SERVE:
Spoon reserved special sauce on top of dip. Pile shredded lettuce into center of dip. Top with chopped tomato and serve with special sauce bun chips.
---