Articles
Go beyond the ordinary: Mac and cheese, reinvented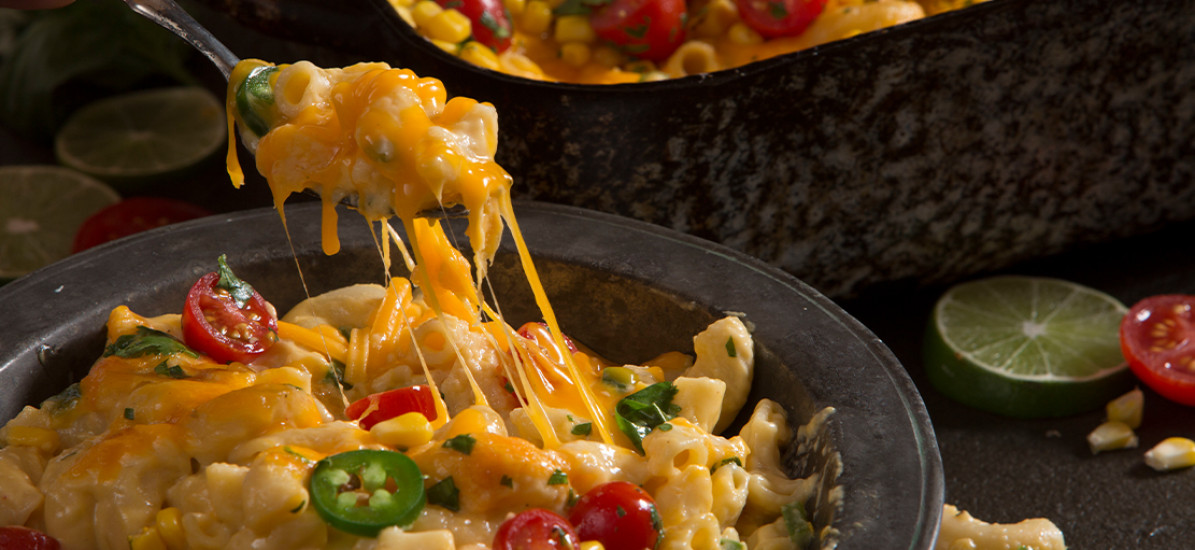 It's the quintessential comfort food loved by people of all ages. But what makes mac and cheese such a universal favorite? Perhaps it's that it conjures up nostalgic memories of your childhood. Or maybe it's that the combo of ooey-gooey cheese and cooked-just-right pasta always satisfies your craving. It could even be that a warm, melty bowl offers some extra comfort when you need it most. Whatever it is, there's no denying that this classic dish is truly something special.
And while traditional mac and cheese is positively perfect, why not take this timeless favorite to new heights? If you're ready to go beyond the ordinary, read on to discover exciting (and easy!) tips guaranteed to tantalize your mac-and-cheese-loving taste buds.
2. PLAY WITH PROTEIN.
While mac and cheese is often enjoyed as a vegetarian dish, why not elevate it with some protein? Adding crispy bacon or diced ham can introduce a savory dimension. Seafood lovers can toss in succulent shrimp or crabmeat for a luxurious seafood mac and cheese. For another option, consider incorporating grilled chicken breast or roasted vegetables for added texture.

Recipe Inspiration:
Jalapeno Mac & Cheese with Corn & Tomato Salad
Lobster Mac N Cheese
3. Explore different cheeses.
Unleash your creativity with different cheese combos that will take your mac and cheese to new levels of richness. Mix sharp cheddar with smoked Gouda for a dish that's tangy and smoky or experiment with creamy Brie and tangy goat cheese for an indulgent taste.
4. Try an unexpected ingredient (or two).
One of the most exciting aspects of mac and cheese is the opportunity to incorporate unexpected ingredients. From caramelized onions and sautéed mushrooms to roasted garlic and truffle oil, these additions can transform a humble mac and cheese into a gourmet delight. For a spicy kick, try adding diced chipotle peppers or sriracha sauce. The key is to balance the flavors and create a harmonious blend of ingredients.
Recipe Inspiration:
Zucchini Mac & Cheese
5. Discover new pastas.
Elbow macaroni may be the traditional choice, but exploring other pasta shapes can bring a new visual and textural element to your mac and cheese. Substitute elbows for cavatappi, fusilli or penne — the different shapes can hold more sauce and cheese, ensuring rich flavor in every mouthful. Our Bourbon Primavera Mac N' Cheese is made with rigatoni noodles to soak up every bit of its delightfully creamy sauce.
We can all agree that mac and cheese is top-notch on its own, but hopefully these simple tips inspire you to break free from tradition and try something new! Craving more mac and cheese? Explore all our recipes here and prepare to indulge in a variety of flavors sure to delight!