Pepper Jack Chili Chicken Tostadas Recipe
Prep Time: 15 Min | Cook Time: 20 Min | Servings: | Calories: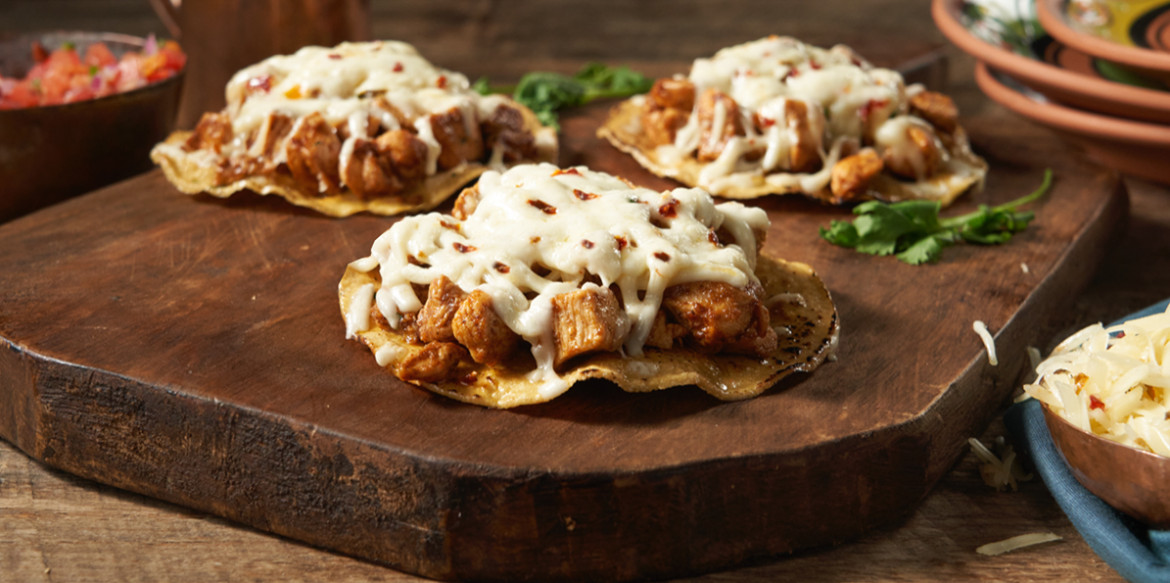 ---
Fresh diced chicken is marinated in robust spices and lime juice, browned in a skillet, then piled onto crunchy corn tostadas with Spicy Sargento® Fiesta Pepper Jack cheese, red onion and cilantro. Delicious!
Ingredients
1 Tbsp. Chili powder
1 tsp. Ground cumin
½ tsp. Paprika
½ tsp. Kosher salt
1 Tbsp. Fresh lime juice
1 tsp. Vegetable oil
1 lb. Boneless, skinless chicken breasts, diced
1 Tbsp. Butter
4 ea. Corn tostadas
1 small Red onion, cut into thin strips
1 Tbsp. Cilantro, chopped
Directions
In a small bowl, combine chili powder and next 5 ingredients. Add chicken and stir until chicken is well coated with spice mixture. Cover and refrigerate at least 1 hour and up to 8 hours.
Pre-heat a large skillet over medium heat. Melt butter in pan, then add chicken. Cook for 10-12 minutes or until chicken is cooked through and lightly browned. Remove pan from heat and assemble tostadas.
Pre-heat oven to 250 degrees. To assemble tostadas: spoon ¼ of the chicken onto each tostada. Sprinkle each with 1/3 cup of cheese. Place tostadas on a large baking sheet and bake for 10 minutes or until cheese is completely melted. Remove from oven, top with onion and cilantro. Serve.
---