15 Cheese Mac & Cheese Tacos Recipe
Prep Time: 8 min | Cook Time: 20 min | Servings: 12 | Calories: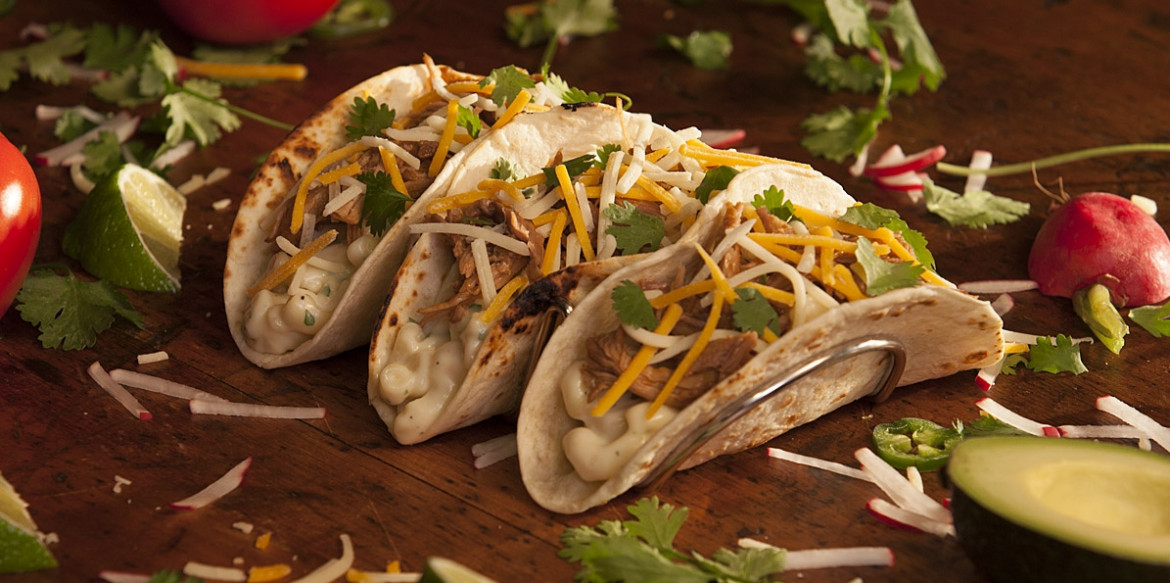 ---
Our 15 Cheese Mac and Cheese Tacos are an over-the-top dish that will definitely make mouths happy! We've combined our Off The Block Authentic Mexican, 6 Cheese Italian, and 4 State Cheddar shredded cheeses to make the ultimate Mac and Cheese. Next, we've scooped this glorious Mac and Cheese mixture into a crispy taco shell, stacked slow cooked BBQ pork shoulder and sprinkled more cheese on top. Give this mouthwatering recipe a try today!
Ingredients
6 cups elbow macaroni, cooked and drained
1/2 cup butter
1/4 cup finely chopped onion (optional)
1/2 cup all-purpose flour
2 tsp. salt
1/4 tsp. pepper
3 cups milk
2 Tbsp. chopped chives or parsley
12 6-inch flour tortillas
Your favorite Pork, Chicken, Beef or Sausage BBQ (held warm)
Slow Cooker Pulled Pork Topper:
4 lb. boneless pork butt roast, cut in half
½ cup brown sugar
2 Tbsp. paprika
2 tsp. black pepper
2 cups prepared barbecue sauce
12 oz. cola
Directions
Cook pasta as directed. Drain and set aside.
Melt butter in medium saucepan over medium heat. Cook onion, if desired, in butter for 5 minutes or until tender. Stir in flour, salt, and pepper and allow to cook for approx. 3 minutes. Gradually add milk and cook, whisking continuously, until thickened.
Remove from heat. Add cheeses (while keeping about 1/2 cup of shredded cheese aside to garnish tacos) and stir until cheese is melted.
Combine cheese sauce with cooked macaroni. Add chives or parsley.
Scoop approximately 1 large serving spoon of mac and cheese into tortilla. Add approximately 1-2 tablespoon(s) of BBQ and sprinkle cheese over the top.
Slow Cooker Pulled Pork Instructions: Place both pieces of pork in a 4-5 quart slow cooker. Sprinkle brown sugar, paprika, and pepper over pork and turn pork around with a fork to coat pork with seasoning. Pour barbecue sauce and cola over pork. Cover slow cooker. Cook on low for 6-7 hours or until pork pulls easily with a fork. Cool pork, then shred meat using two forks. Use on 15 Cheese Mac and Cheese Tacos, or on buns of your choice, topped with Sargento cheese.
---