Peppercorn Burger
Prep Time: 20 MIN | Cook Time: 24 MIN | Servings: 4 | Calories: 600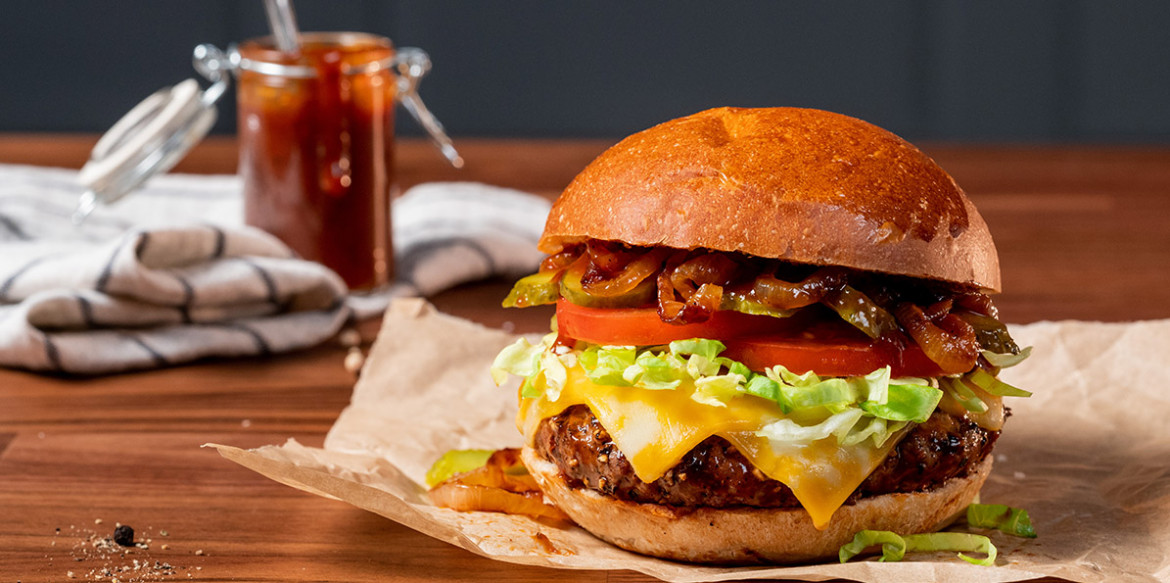 ---
<p>There's nothing better than a cookout when peppery beef burgers are served. So fire up the grill and make these juicy burgers for family dinner or a gathering with friends</p>
Ingredients
1 Tbsp Olive oil
2 medium Yellow onions, thinly sliced
3 Tbsp Barbeque sauce, plus extra to serve
1 1/2 lbs Ground beef
1 tsp Salt
1 Tbsp Coarsely ground peppercorn medley
4 slices Sargento® Colby Jack Cheese
4 ea. Burger buns, split and buttered
1 cup Shredded romaine or iceberg lettuce
4 large Tomato slices
1/4 cup Dill pickle slices, drained
Directions
Heat oil in a large skillet over medium heat. Cook onion for 10 to 12 minutes, stirring occasionally, until browned and softened. Add 1 tablespoon of barbecue sauce; stir to combine.
While the onion cooks, shape beef into four patties, making them a little larger than the buns they'll be served on. Sprinkle top and bottom with salt and pepper. Preheat grill to medium-high.
Cook patties on greased grill for 4 to 5 minutes per side, or until cooked to desired doneness. During the last 2 minutes of cooking, brush the patties with remaining barbecue sauce and sprinkle with more ground pepper.
Add Sargento® Sliced Sharp Cheddar Cheese to each patty just before removing them from the grill. Cover to keep warm.
Toast the buns, cut side down on the grill for 1 to 2 minutes or until grill marks appear.
To assemble the burgers: Place bun halves on boards or plates. Add lettuce, tomato, patties, pickle slices, onion and extra barbecue sauce; replace bun tops.
---