Grilled Vegetable Sandwich
Prep Time: 10 Min | Cook Time: 7 Min | Servings: 2 | Calories: 647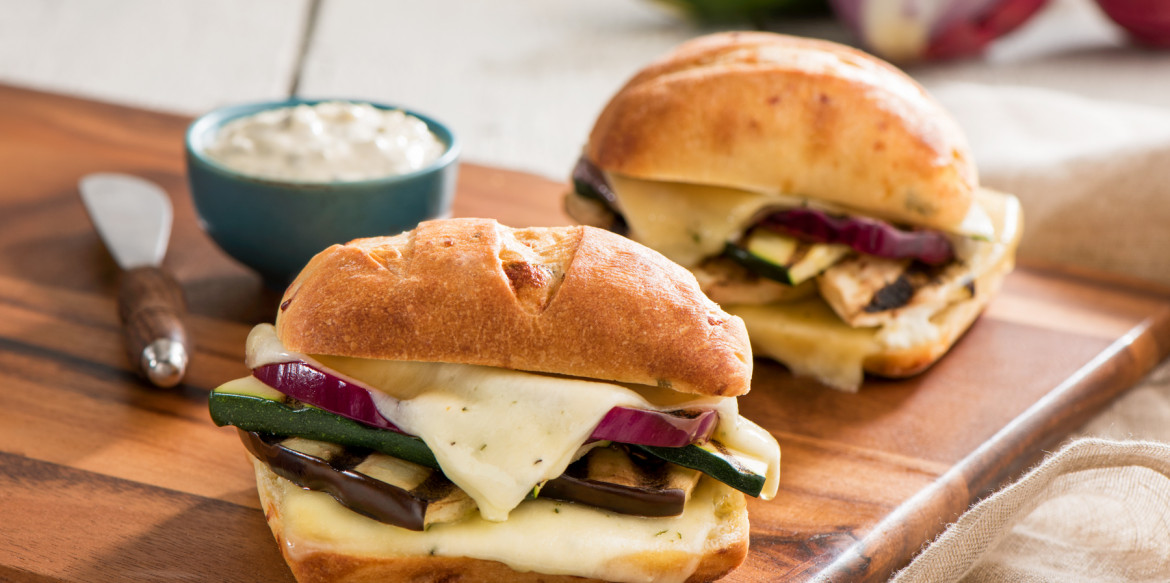 ---
<p>Make a grilled vegetable sandwich for your next Meatless Monday. This sandwich packs a plentiful serving of vegetables including zucchini and baby eggplant topped with slices of onion, Sargento® Sliced Garlic and Herb Jack Cheese and a delicious combination of capers, lemon juice and mayonnaise. Grill it all on a ciabatta bun until the cheese is melted.</p>
Ingredients
2 baby eggplants, cut lengthwise into 1/4-inch slices
1 small zucchini, cut lengthwise into 1/4-inch slices
1/4 red onion, sliced into rounds
1 Tbsp olive oil
3 Tbsp mayonnaise
1 Tbsp chopped capers
1/2 tsp. finely grated lemon zest
2 tsp. lemon juice
2 Ciabatta buns, split
4 slices Sargento® Garlic and Herb Jack Cheese
Directions
Preheat grill to medium-high heat; grease grate well. Toss eggplants, zucchini and red onion slices with olive oil; sprinkle with salt and pepper to taste. Grill vegetables, turning once, for 5 to 8 minutes or until grill- marked and tender.
Meanwhile, stir together mayonnaise, capers, lemon zest and lemon juice; spread evenly over buns.
Layer slice of cheese, grilled vegetables and another slice of cheese in buns. Grill sandwiches for 1 to 2 minutes per side or until cheese has melted and buns are grill-marked.
---