Bacon Bison Burger
Prep Time: 20 MIN | Cook Time: 8 MIN | Servings: 4 | Calories: 870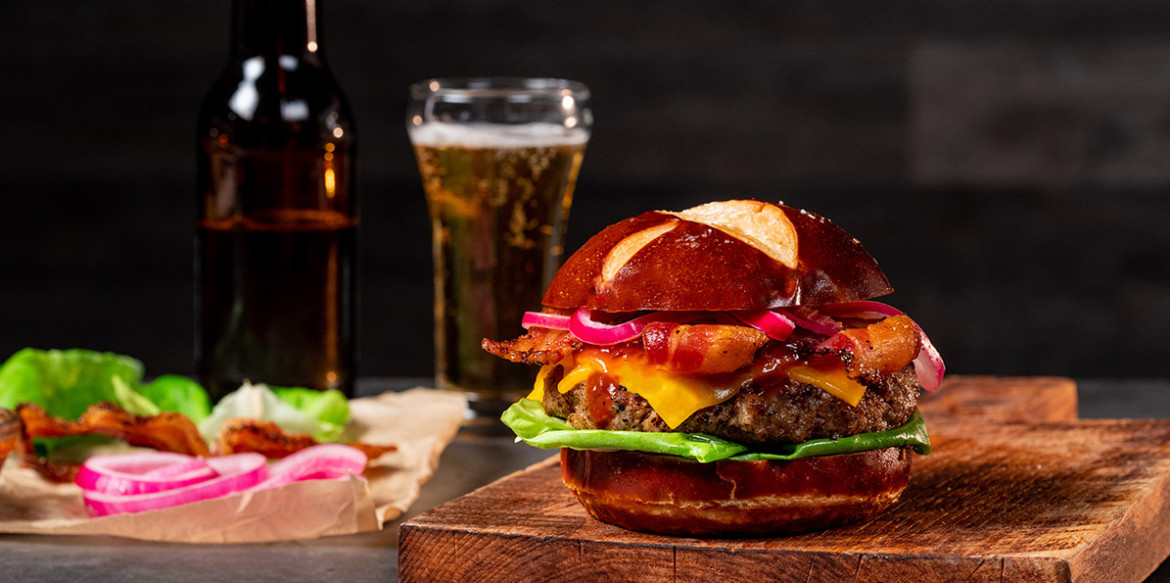 ---
<p>Bison makes a delicious choice for burgers. Served with pickled red onion, cheddar cheese &amp; bacon – this burger is certain to become a favorite with friends &amp; family</p>
Ingredients
2 Red onions, thinly sliced
1/2 Cup Rice vinegar
1 Tbsp Granulated sugar
1/2 tsp Salt
1 lb. Ground bison
1/2 cup Breadcrumbs
1 Large egg, beaten
1 Tbsp steak sauce
1 tsp Steak seasoning
1 tsp Fresh ground black pepper
4 Pretzel buns
4 Bibb lettuce leaves
8 Slices Peppered bacon, cooked
Directions
Combine onion, vinegar, sugar and salt in a small bowl. Cover and let stand for 1 hour, stirring occasionally.
Meanwhile, combine bison, breadcrumbs, egg, 1 Tbsp of steak sauce, seasoning & pepper in a medium bowl. Cover & chill for 15 minutes. Shape mixture into 4 patties slightly larger than the buns they're going to be served on.
Heat a grill to medium-high. Cook patties on well-greased grill for 3 minutes per side or until cooked to your liking. Top each patty with cheese just before removing from the grill.
Cook buns on same grill for 1 to 2 minutes until toasted and grill marks appear.
To assemble the burgers: Drain the onion from its pickling liquid. Place bun halves on boards or plates. Add lettuce, patties, bacon, extra steak sauce and pickled onion; replace bun tops.
---