Pot Roast Sandwich
Prep Time: 20 MIN | Cook Time: | Servings: 4 | Calories: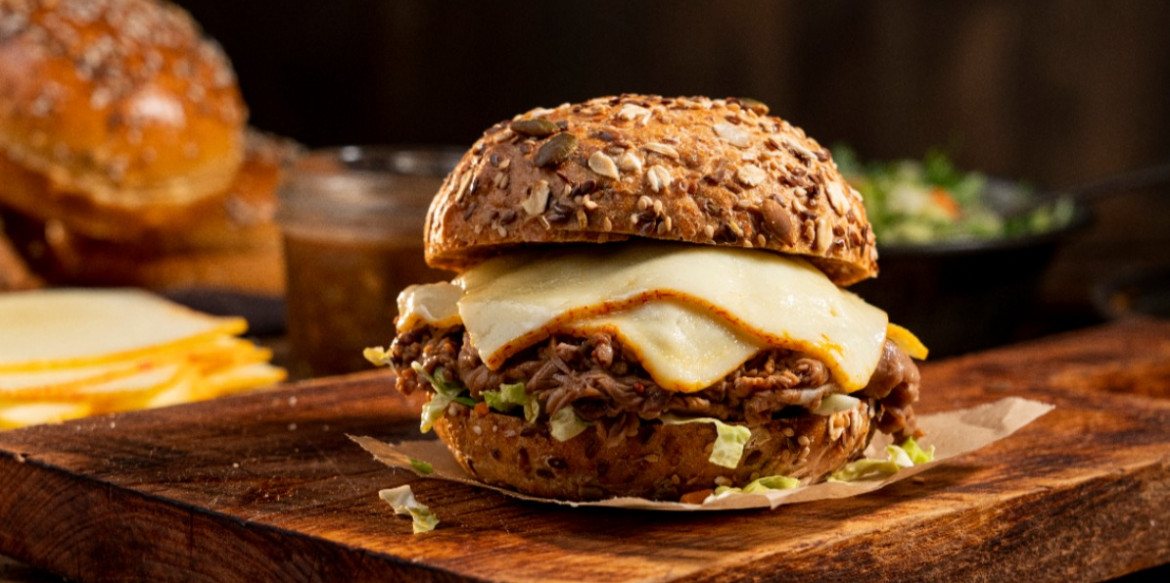 ---
This variation on a classic French dip sandwich is worth the effort. A homemade mushroom gravy enrobes the tender roast beef, which is then piled high on rustic buns with Muenster cheese and a zesty brussels sprout slaw.
Ingredients
3 Tbsp. Butter
1 cup Shiitake mushrooms, chopped
1 ea. shallot, chopped
1 clove Garlic, minced
2 tbsp. Flour
2 cans (10.5oz) Beef broth
1 1/2 lbs. Deli sliced roast beef
4 ea. brioche buns, split
8 slices Sargento Muenster Cheese
1/2 cup Brussels sprouts, shredded
1/2 cup Carrots, shredded
1/4 cup Italian dressing
Directions
Melt butter in a dutch oven or saucepan over medium heat.  Add mushrooms, shallot and garlic.  Saute for 3-4 minutes or until softened.  Stir in flour and cook, stirring often, for 2-3 minutes or until flour is cooked and lightly browned.
For slaw: In a medium bowl, combine shredded brussels sprouts, carrots and dressing.  Toss to coat. 
To Serve: Transfer roast beef to pot of simmering broth.  Cook for 30-45 seconds or until hot.  Meanwhile, spoon prepared slaw onto the toasted bun bottoms.  Using a pair of tongs or a slotted spoon, transfer about six ounces of hot beef mixture over each bottom topped with slaw. 
Place 2 slices of cheese over hot beef.  Finish with bun tops and serve with a side of mushroom jus for dipping.
---