Ham & Baby Swiss Panini with Fig Jam
Prep Time: 15 Min | Cook Time: | Servings: 2 | Calories: 828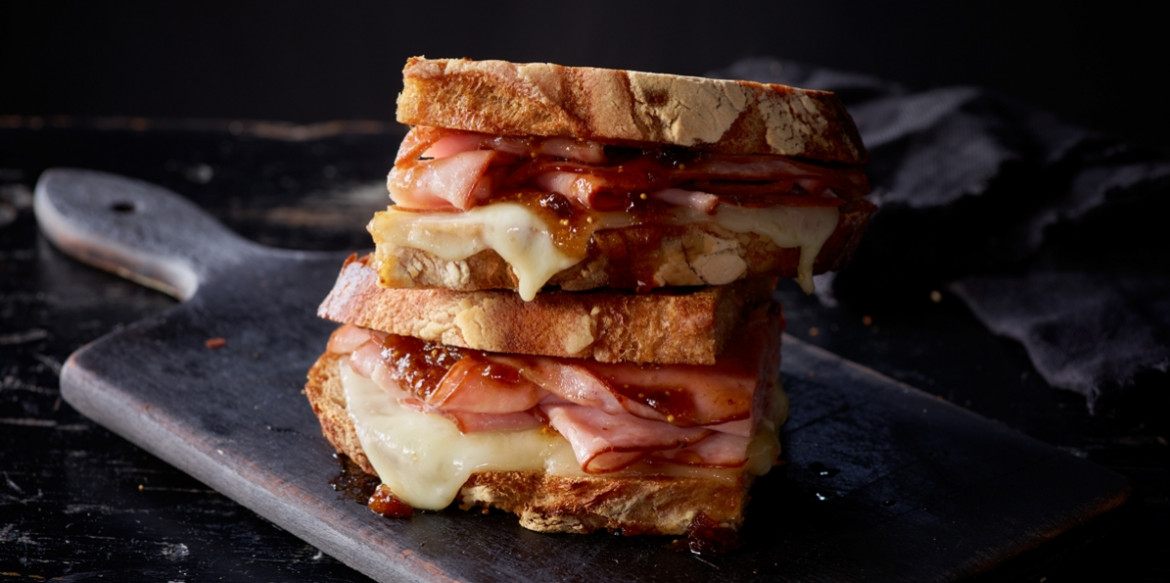 ---
Not only are these panini delicious, they're also filled with a handmade fig jam made with chopped dried figs and apple cider using our expert recipe. The layers of smoky ham and Sargento® Sliced Baby Swiss Cheese melt just right to create artisanal and mouthwatering panini.
Ingredients
2 cups (10 oz.) coarsely chopped stemmed dried figs
2/3 cup apple cider or apple juice
4 slices marble rye bread
4 thin slices deli smoked ham or honey ham
2 Tbsp. butter, softened
Directions
For fig jam, combine figs and apple cider in a medium saucepan; bring to a boil over high heat. Reduce heat; simmer uncovered until most of the liquid is absorbed and figs are tender, about 5 minutes. Cool slightly; transfer to a food processor and puree. Transfer mixture to a jar; refrigerate at least 30 minutes or up to 2 weeks. Makes about 1-1/3 cups jam.
Arrange 1 slice of cheese over each slice of bread; top with ham. Close sandwiches; spread outsides evenly with butter.
Cook sandwiches in a preheated panini maker or skillet iron until golden brown and cheese is melted, about 3 minutes.* Serve each sandwich with 2 tablespoons jam for dipping or spreading inside. Reserve remaining jam to serve on toast or sliced fresh fruit.
---