Zucchini Pizza Sticks
Prep Time: 15 MIN | Cook Time: 1 HR | Servings: 4 | Calories: 410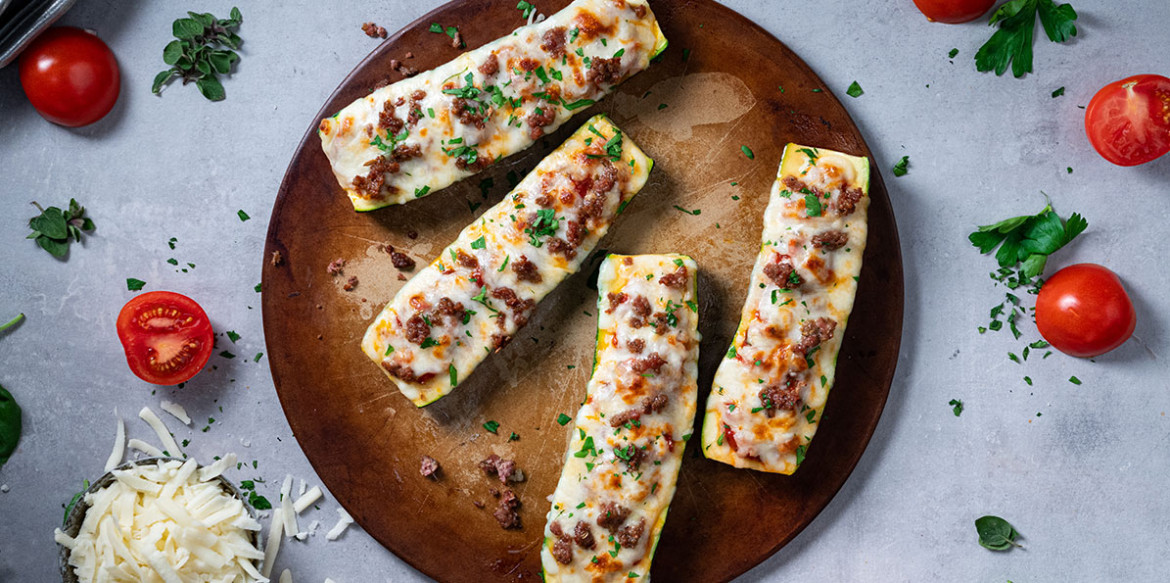 ---
<p>These cheesy pizza sticks offer all the flavor that pizza promises. The use of fresh tomatoes pump up your taste buds while Mozzarella offers the gooey cheese moment you crave.</p>
Directions
Preheat oven to 375 F. Heat medium skillet over medium heat. Add the sausage and break it up with a fork. Cook until browned. Transfer to paper towel lined plate and discard the fat in pan, reserving 1 teaspoon in the pan.
Empty the canned tomatoes into bowl. Using your hands or a pair of kitchen shears crush the tomatoes. Heat skillet with the sausage fat over medium heat. Add the onions and sauté until translucent, add garlic and cook until fragrant. Stir in the crushed tomatoes, oregano, salt and pepper and bring to a simmer, reduce heat and cook until reduced and slightly thick, about 15-20 minutes. Turn off the heat and stir in basil.
Trim the ends of the zucchini and slice in half lengthwise. Scoop out the seeds and slice thinly lengthwise down the back of each half so they lay flat. Place on a sheet tray and lightly brush both sides with olive oil. Top each half with tomato sauce, mozzarella cheese and sausage. Bake for 20-30 minutes until cheese is melted & zucchini is cooked through. Garnish with parsley and serve immediately.
---