Caramelized Leeks and Prosciutto Pizza
Prep Time: 2 HOURS | Cook Time: 10 MIN | Servings: 5 | Calories: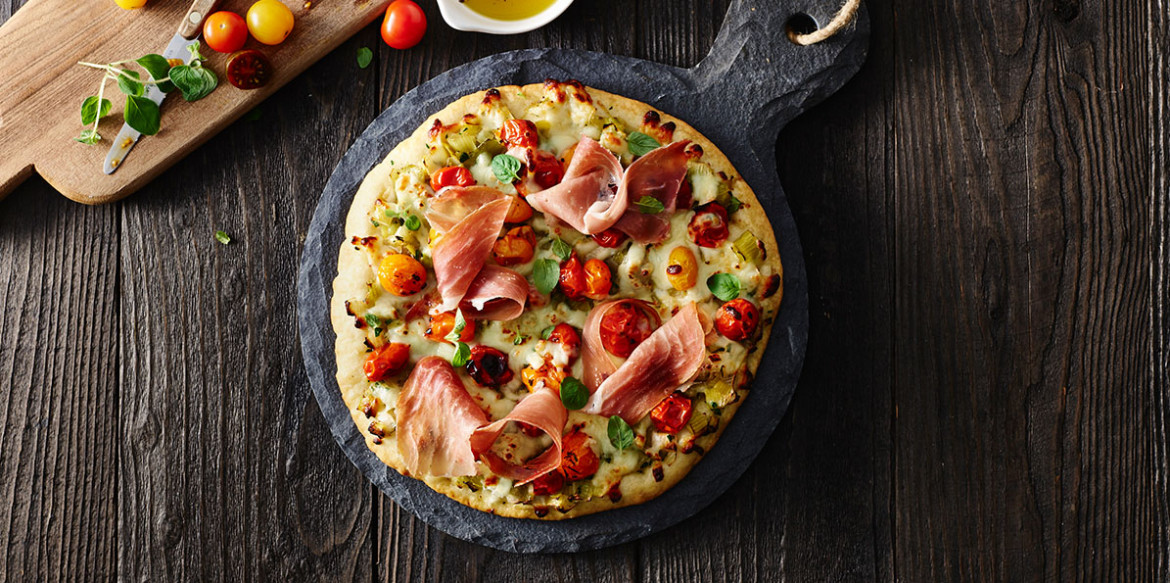 ---
There's absolutely nothing better than pizza with homemade crust topped a winning blend of toppings. In this version, bubbly, melted Mozzarella smothers caramelized leeks and roasted cherry tomatoes and it's topped off with Italian ham. This recipe makes 9-inch individual pizzas, but feel free to make one large pizza.
Directions
In a large mixing bowl add the yeast, sugar, water and salt and let sit for 10 minutes. Then add in the flour and mix until well combined then place on a flour surface and kneed dough for 5 minutes. Place the dough back into a lightly oiled bowl and cover for 1 hour or until doubled in size. Punch down the dough and measure into 8oz portions roll into a ball and place onto a sheet tray and cover for 40 minutes or until doubled in size.
In a medium sauté pan add the olive oil and heat on low heat. Then add the leeks garlic salt and pepper. Cook leeks for 20 minutes
Place cherry tomatoes onto a baking sheet and drizzle with olive oil salt and pepper. Place into the oven for 2 minutes.
On a lightly floured board roll the dough one at a time into 9 inch round. Place a portion of the leeks, cherry tomatoes, Shredded cheese and place onto the pizza stone and bake at 425 degrees for 10 minutes or until golden brown.
Remove from the oven and place the prosciutto onto and cut into portions and garnish with chopped oregano.
---