BBQ Chicken Grilled Pizza Recipe
Prep Time: 10 Min | Cook Time: 40 Min | Servings: 4 | Calories: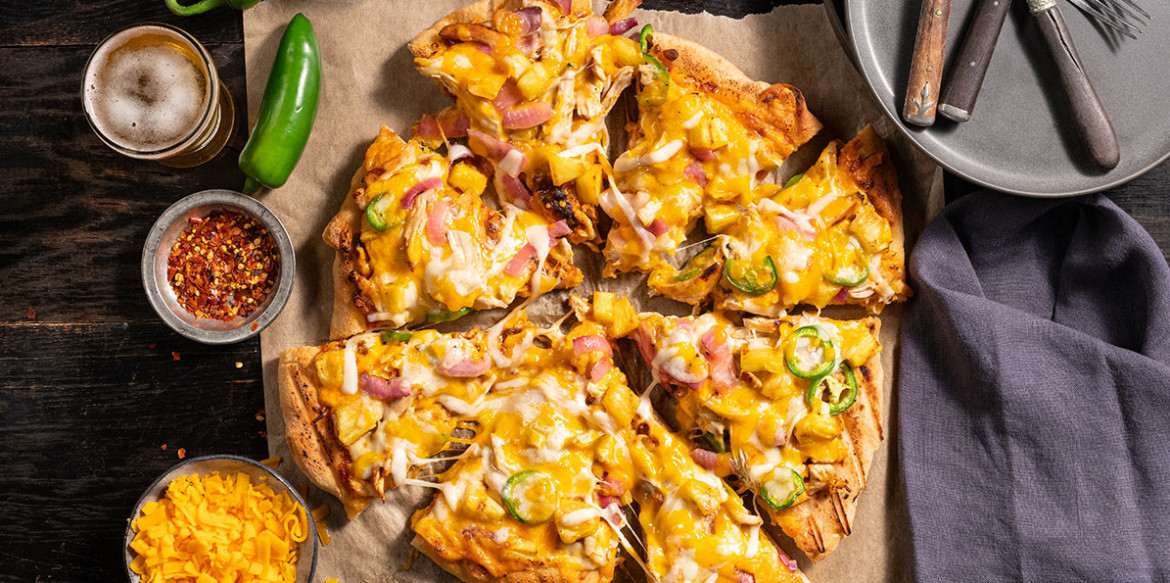 ---
You don't have to be a professional or have an industrial pizza oven in your home to whip up some of the best pizzas on the block. All you need is a grill and Sargento® Reserve Series™ Shreds for a pizza that is rich and full of flavor!
Ingredients
12 ozs. Fresh pizza dough, room temperature
1 tsp. Cornmeal
1 tsp. Flour
1 med. Boneless, skinless chicken breast
½ cup Carolina style barbecue sauce, divided
4 slices Red onion
2 slices Fresh pineapple
2 cups Sargento® Reserve Series® Aged Italian Blend
1 cup Sargento® Reserve Series® 18-Month Aged Cheddar
1 ea. Fresh jalapeno pepper, thinly sliced
Directions
Combine chicken and 2 tablespoons of barbecue sauce in a re-sealable plastic bag. Refrigerate for 1 hour.
Pre-heat grill over medium heat.
For pizza crust, sprinkle flour and cornmeal onto a flat baking sheet or pizza peel. On a clean, flat surface, roll dough into a 12-14" round with a rolling pin. Place dough round carefully on cornmeal and flour dusted baking sheet or peel.
Slide dough round quickly onto grill. Grill for 2 minutes or until dough is lightly browned. Turn pizza crust over with a pair of tongs. Grill another 2 minutes. Transfer pizza crust to the baking sheet and set aside.
Place marinated chicken breast, red onion and pineapple slices on grill. Grill for 5 minutes. Turn over with tongs and grill an additional 5 minutes or until lightly charred. Transfer red onion and pineapple to a cutting board and let cool. Grill chicken an additional 5 minutes, turning 2 more times until chicken is cooked through. Transfer chicken to a plate and let cool completely. Shred chicken with 2 forks or pull apart with fingers.
To Assemble Pizza: Spoon remaining barbecue sauce onto par-grilled pizza crust and spread to within an inch of the edge. Spread half of the two cheeses over barbecue sauce. Top with shredded chicken, grilled red onion, pineapple and jalapeno slices. Sprinkle remaining cheese on top.
Transfer topped pizza to hot grill, placing it away from direct heat. Cover and cook for 10 minutes or until cheese is melted and crust is browned. Remove from grill, cut into slices and serve.
TIP: To simplify recipe, use pre-cooked or shredded chicken and use a par-baked pizza crust.
---