Crunchy Taco Cups
Prep Time: 15 Min | Cook Time: 30 Min | Servings: 4 | Calories: 600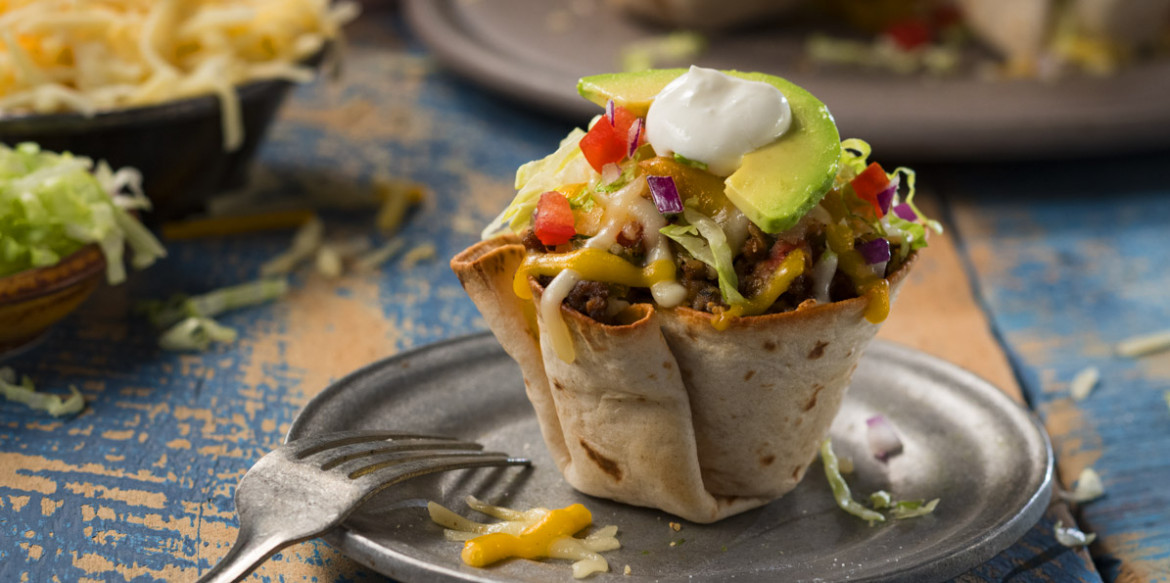 ---
<p>These taco cups are delicious, easy to make, cute and loaded with Sargento® cheesy goodness. They can also be made with chicken. Feel free to spice them up by adding jalapeño slices or hot sauce on top.</p>
Ingredients
6 ea. 6" flour tortillas
1 lb. ground beef
1 pkg. taco seasoning mix
1 pkg. taco seasoning mix
¾ cup water
¼ cup prepared salsa
1 cup shredded lettuce
¼ cup fresh tomato, chopped
2 tbsp. red onion, diced
½ ea. fresh avocado, sliced
¼ cup sour cream
Directions
Preheat oven to 400 degrees F. Warm tortillas in a microwave or oven for 30 seconds or until softened. Press tortillas into a 6-muffin tin coated with non-stick cooking spray. Bake for 10-12 minutes or until golden brown. Set aside to cool.
In a large, non-stick skillet, brown ground beef, breaking mixture up as it cooks until meat is no longer pink. Drain fat. Add taco seasoning and water. Simmer over low heat for about 10 minutes or until mixture is heated through and thickened.
Spoon taco meat into cooled tortilla cups. Spoon 1 tablespoon of salsa on top of meat. Sprinkle cheese over salsa. Bake for 10-12 minutes or until cheese has completely melted. Remove from oven, top with lettuce, tomato, onion, avocado and sour cream. Serve.
---