Three Cheese Vegetable Lasagna
Prep Time: 25 min | Cook Time: 45 min | Servings: 10 | Calories: 245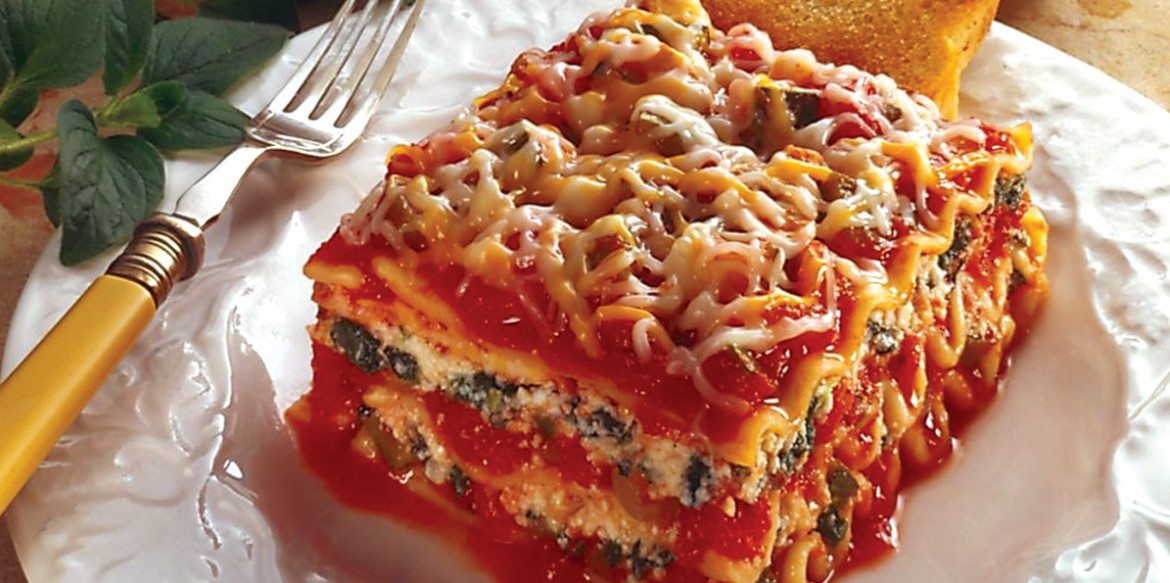 ---
Make this lasagna and indulge in the savory flavors of sautéed vegetables layered with tender noodles and a combination of cheeses including Sargento® Shredded 4 Cheese Pizzeria along with fresh herbs, spices and deliciously tender mushrooms.
Directions
Spray large skillet with nonstick vegetable spray. Heat olive oil in large skillet over medium heat. Add onion and garlic; cook 5 minutes; stirring occasionally. Add tomato puree, tomatoes, tomato liquid, mushrooms, zucchini, bell pepper, basil, red pepper flakes, oregano and salt and sugar, if desired. Heat to a boil; reduce heat, cover and simmer 10 minutes.
Combine Ricotta cheese, spinach, egg whites and Parmesan cheese in bowl; set aside. Spread 1 cup tomato sauce mixture in bottom of 13x9-inch baking dish. Layer 3 lasagna noodles over sauce. Top with half the Ricotta cheese mixture and 2 cups sauce. Repeat layering with 3 more lasagna noodles, remaining Ricotta mixture and 2 cups sauce. Sprinkle with 3/4 cup Pizza Double Cheese. Top with remaining lasagna noodles and sauce.
Cover with foil; bake in preheated 375°F oven 30 minutes. Uncover; bake 15 minutes more. Sprinkle with remaining 3/4 cup Pizza Double Cheese. Let stand 10 minutes before serving.
---