Italian Beef Sliders
Prep Time: 10 Min | Cook Time: 7 Hours | Servings: 6 | Calories: 720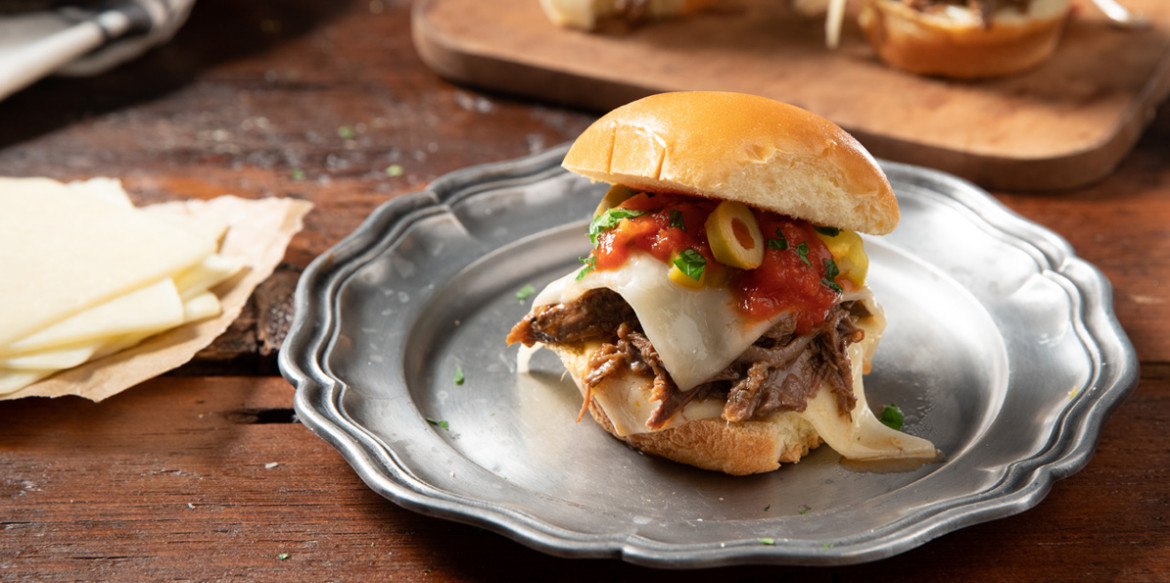 ---
<p>These Italian beef sliders take less than 10 minutes to get started, then the slow cooker does all the work.&nbsp; A few minutes to pull the beef apart and pile it on buns with some Sargento®&nbsp; Mozzarella cheese and you're ready for a flavor fest.</p>
Directions
FOR ITALIAN BEEF: Place the beef pot roast in a 6-8 quart slow cooker. Sprinkle roast with dry Italian dressing mix and rub mixture into meat on all sides. Pour peppers and ½ cup of marinara around roast. Stir to combine. Place slow cooker cover on top and cook on low for 6-7 hours or until meat is tender and pulls apart easily with a fork. Pull meat into pieces using two forks. Cover and keep warm until ready to eat.
TO SERVE: Place one triangle of cheese on the bun bottom. Use a pair of tongs or a slotted spoon to transfer about 1/4 cup of meat over the cheese. Place another triangle of cheese over the meat. Sprinkle a few pepper rings and olive halves over cheese. Spoon about a tablespoon of remaining marinara sauce over olives and peppers and finish with a sprinkle of chopped parsley and bun top. Serve.
NOTE: For an alternative serving option, serve the same ingredients on street taco size flour tortillas.
---