Easy Taco Salad
Prep Time: 22 min | Cook Time: | Servings: 6 | Calories: 568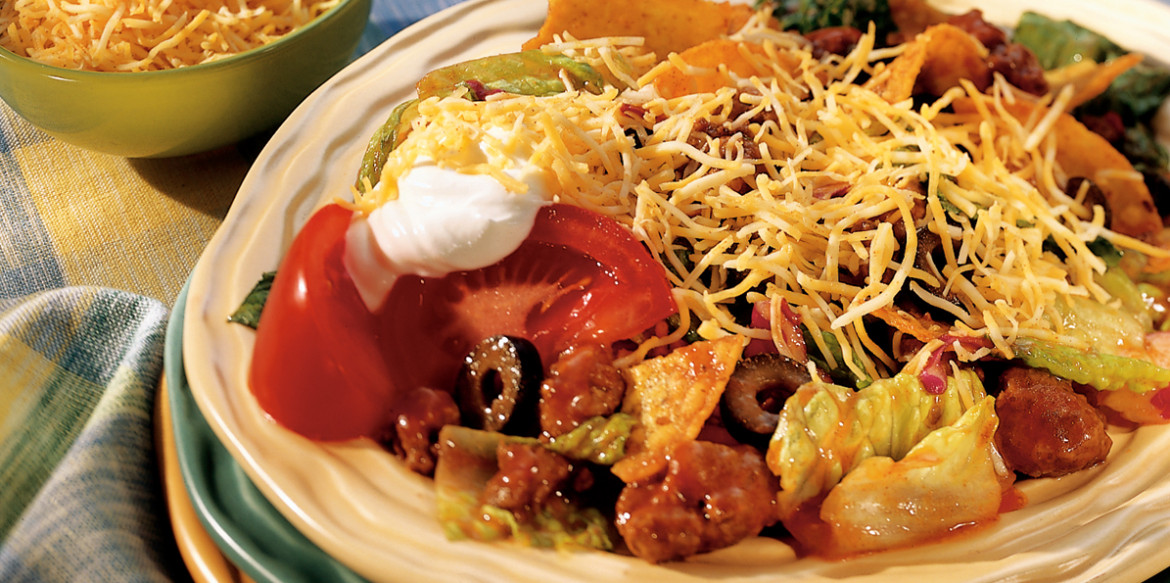 ---
This easy taco salad makes for a fantastic meal or side salad for any time and is made with fresh ingredients like salad greens, sliced tomatoes, ground beef and Sargento® Shredded Nacho & Taco Cheese. With a drizzling of French dressing and a dollop of sour cream, all you'll need is a helping of crushed tortilla chips for a perfect added crunch.
Ingredients
1 lb. ground beef
1 pkg. (1.25 oz.) taco seasoning
1 pkg. (16 oz.) salad greens
3 cups coarsely crushed tortilla chips
1/3 cup sliced black olives
1 bottle (8 oz.) French salad dressing
2 tomatoes, cut into wedges
6 Tbsp. sour cream
Directions
Prepare ground beef as directed on package of taco seasoning. Place in large bowl; refrigerate 10 minutes or until cooled.
Add lettuce, chips and olives to bowl with beef. Pour salad dressing over mixture; toss until well-coated.
Arrange salad on serving plates. Top each with 1/3 cup cheese, tomato wedges and dollop of sour cream.
---