Chicken with Pasta and Spinach
Prep Time: 15 min | Cook Time: 15 min | Servings: 4 | Calories: 424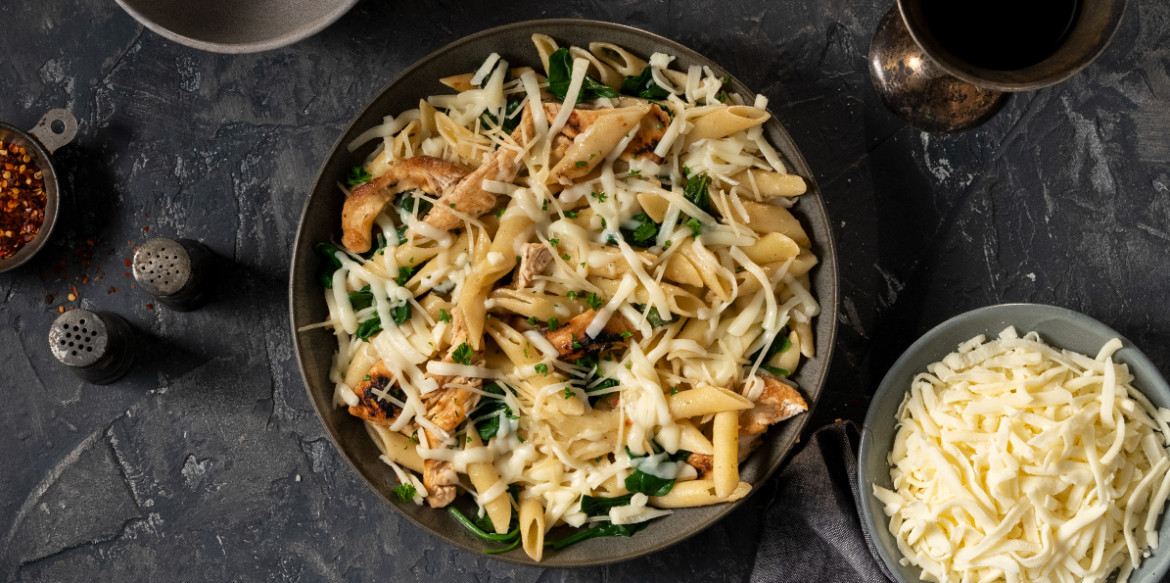 ---
<p>The flavors of tender paprika-seasoned chicken strips simmered in broth, onion and a splash of lemon juice as well as sherry go wonderfully with wilted spinach and a mix of cheeses. Sargento® Shredded Mozzarella - Traditional Cut is among the tasty toppings on top of a bed of your favorite al dente pasta.</p>
Directions
Cook pasta according to package directions. When pasta is done, stir spinach into pot with pasta and cook 1 minute. Drain pasta and spinach together; set aside.
Combine flour, salt and paprika in plastic or paper bag. Add chicken strips; shake bag to coat evenly. Heat oil in large skillet over medium heat; add chicken strips, reserving any flour mixture in bag. Cook chicken 4 minutes or until no longer pink. Add dressing, broth, onion, lemon juice, sherry and remaining reserved flour mixture; cook and stir over medium heat 5 minutes or until hot and bubbly.
Add drained pasta mixture to skillet; toss well and heat through. Remove from heat; stir in Parmesan cheese and 1/2 cup Mozzarella cheese. Transfer to serving plates; top with remaining Mozzarella cheese.
---