Bean & Cheese Enchiladas
Prep Time: 10 Min. | Cook Time: 40 Min | Servings: 4 | Calories: 3500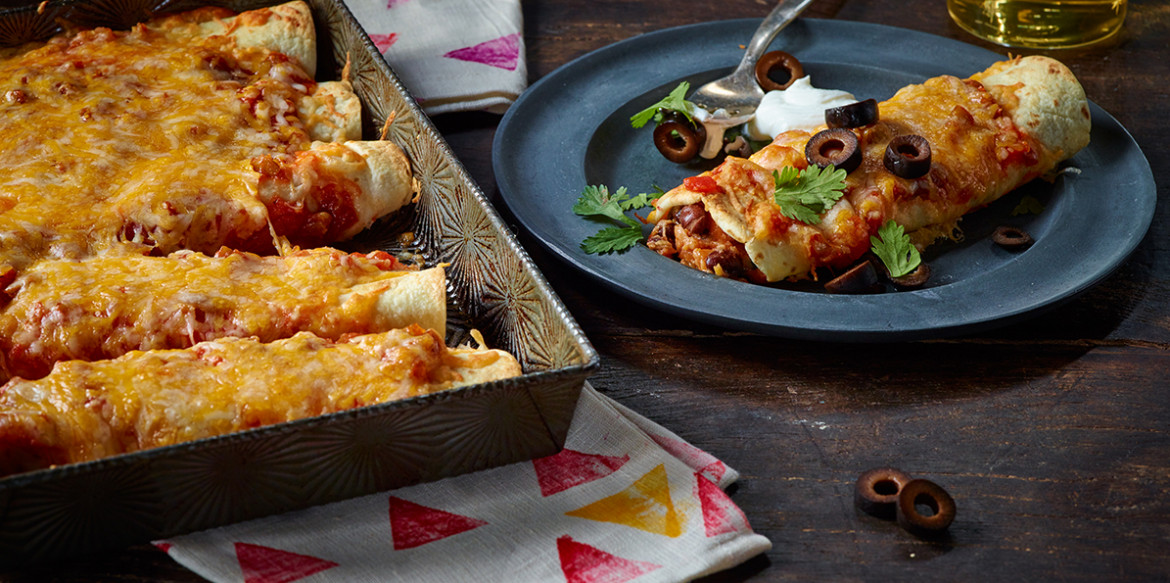 ---
<p>It's hard to go wrong with this popular Mexican-inspired dish that's richly satisfying and deliciously cheesy. The flavor of Sargento® Mexican Cheese paired with the bite of Sargento® Sharp Cheddar Cheese melds perfectly with the ground turkey, beans and sauce. Sprinkle on all your favorite toppings.</p>
Ingredients
8 (8-inch) Fat Free flour tortillas
1/2 pound ground turkey
1 can (15 oz.) black beans or pinto beans, rinsed and drained
3/4 cup chunky salsa
1/2 cup sliced green onions with tops
3/4 tsp. ground cumin
2 cans (10 oz. each) mild enchilada sauce, divided
Optional toppings: sour cream, chopped tomato, chopped cilantro, black olives
Directions
Cook turkey in nonstick skillet over medium heat 5 minutes or until turkey is no longer pink. Add beans, salsa, green onions and cumin; simmer 8 minutes, stirring occasionally. Add to skillet 1/2 cup Sargento® Shredded Sharp Cheddar Cheese - Traditional Cut and 1/2 cup Sargento® Shredded Authentic Mexican Cheese and stir together.
Spread 1/2 cup enchilada sauce in bottom of 9x13 baking dish. Spoon mixture evenly down center of tortillas. Roll up; place seam side down in dish. Spread remaining enchilada sauce over enchiladas. Cover dish with foil.
Bake in preheated 375 degree oven for 25 minutes until heated through. Uncover; top with remaining cheese. Continue baking 5 minutes or until cheese is melted.
---